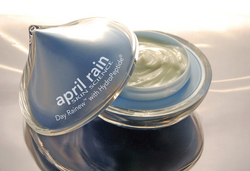 HydroPeptide®-DR is a multi-dimensional formula that maximizes hydration, rebuilds collagen, reduces wrinkles and fine lines, shrinks pore size and noticeably firms and lifts skin
(Vocus) March 24, 2009
Issaquah, Wash. -- Free radicals are everywhere and are a key component to aging. These unpaired electrons get into cells, causing damage over time and ultimately degenerate natural beauty and youthful skin. April Rain Skin Science® is putting a stop to this skin destruction with the launch of Day Rainew® and its unparalleled 16 free-radical fighting antioxidants that provide super-defense and create wrinkle-resistant skin.
The perfect compliment to April Rain's® hero product Night Rainew®, Day Rainew® is specially formulated to block all seven types of free radicals that break down skin cells. April Rain® looked toward science for inspiration when creating Day Rainew® and maximized the concentration of peptides and neuropeptides, with an unsurpassed 29.5 percent HydroPeptide®-DR. HydroPeptide®-DR is among the most powerful collagen-boosters and wound healers found in skin care and is respected for its rejuvenating and healing properties.
In independent clinical studies, Day Rainew®'s ageless ingredients produced a 350 percent improvement on wrinkles compared to a placebo, fine lines and wrinkles were reduced by as much as 63 percent in 30 days and the deep wrinkle surface area demonstrated a maximum reduction of 98 percent in 56 days. The antioxidants within Day Rainew® fool free radicals and reactive oxygen species (ROS) into thinking their outer electrons are paired - ending their vicious cell-damaging cycle.
Antioxidants taken from within are only one aspect of combating free radicals. There is research proving that topical application is just as important. Day Rainew® provides the stability cells need to remain healthy and young as well as reconstructive and stem cell mimicking peptides that help correct the problem when damage has already taken place.
"HydroPeptide®-DR is a multi-dimensional formula that maximizes hydration, rebuilds collagen, reduces wrinkles and fine lines, shrinks pore size and noticeably firms and lifts skin," said April Zangl, Founder of April Rain Skin Science®. "Day Rainew® adjusts moisture to your exact needs throughout the day so it's never too heavy and never too dry. The combination of Night Rainew® and Day Rainew® covers the needs to help replenish and restore skin to perfection."
The super defender Day Rainew® is like a multivitamin for skin, supplying a recommended daily quota (RDQ) of key elements that shield skin from wrinkle-causing free radical attack. The multifunctional antioxidants and vitamins defend against sun damage and environmental assault while promoting skin cell regeneration.
Day Rainew® will be available in the second quarter of 2009 in prestige department stores, high-end spas and dermatologist offices. Visit http://aprilrainskinscience.com for more information.
About April Rain Skin Science, Inc.
April Rain's® passion is to formulate healthy, anti-aging skin care products with clinically proven results for people who are serious about achieving truly younger, radiant and more beautiful skin. April Rain® is not only obsessed with healthy skin but with helping people by supporting charity: water, a non profit organization that brings clean, safe drinking water to people in developing nations. Positively drenching your skin with fresh science from April Rain®.
Media contact: Justin Dotterweich
April Rain Skin Science®
1085 12th Ave NW Ste D5, Issaquah, WA 98027
Phone/Fax: (800) 932-9873 ext: 4368
http://www.aprilrainskinscience.com
###