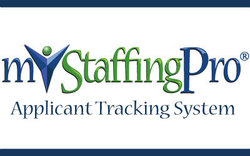 Our pre-release testing partners have been overwhelmingly enthusiastic about this cutting-edge HR technology
Lima, Ohio (PRWEB) March 24, 2009
myStaffingPro, a leading applicant tracking system, increases its offering with the Offer Approval module. The module enables HR professionals to seamlessly request and receive hiring manager feedback on an applicant offer without logging into myStaffingPro. The robust offering includes a configurable feedback request process, a stand-alone hiring manager portal, and ongoing progress notifications.
Recruiters can configure the offer request by selecting the desired hiring manager(s), response due date, and applicant attachment(s). Communication options enable hiring managers to receive and review the request through email, PDA, or a web-enabled cell phone.
The response request features the applicant's information, requisition information, response deadline, and a link to the hiring manager interface. The easy-to-use interface enables hiring mangers to review the applicant offer information, and immediately submit feedback without logging into myStaffingPro. The innovative interface removes the training barrier that typically prevents hiring managers from using applicant tracking.
The hiring manager feedback is immediately tied to the applicant file and is accessible in myStaffingPro. Meanwhile, the requestor is sent continual updates on the progress of their request. The result is a streamlined feedback process that improves response rates and requires no training. "Our pre-release testing partners have been overwhelmingly enthusiastic about this cutting-edge HR technology," said product development manager Jennifer Brogee.
For additional information on the Offer Approval Module, contact Julia Friemering at 800-939-2462 or visit http://mystaffingpro.com.
About myStaffingPro:
myStaffingPro is a web-based applicant tracking system with ten years of experience. Clients of myStaffingPro consistently give high ratings for flexible user functionality, unmatched prescreening, superior support, advanced reporting, and virtually "zero" down time. The system is available in four solutions to accommodate clients of any size or hiring process. myStaffingPro is currently delivering the hiring process for over 400 clients and has processed over 13 million applications. To learn more about myStaffingPro applicant tracking system, please visit http://mystaffingpro.com/.
About HR Services Inc.
HR Services Inc. is a leading human resources software company serving businesses nationwide. The company's product line features the myStaffingPro applicant tracking suite, as well as the DialApp interactive voice response system.
This press release was distributed through eMediawire by Human Resources Marketer (HR Marketer: http://www.HRmarketer.com) on behalf of the company listed above.
###