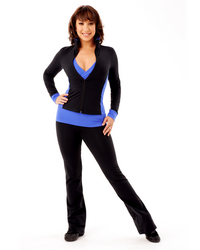 At Fit Couture we believe that exercise clothing should be functional, flattering, stylish and comfortable -- all philosophies that we share with Cheryl. We feel like Cheryl Burke by Fit Couture really captures her personality and sense of style. The pieces can be worn around the house, running errands and definitely can tolerate any workout, be it the gym or in the dance studio
Houston, TX (PRWEB) March 25, 2009
Cheryl Burke, a two-time champion on Dancing with the Stars, has joined forces with online based clothier Fit Couture for Burke's first foray into the apparel world. The signature line of active and workout wear is called Cheryl Burke by Fit Couture. Founded in 2003 by Amy and Mike Cerny, with the belief that workout attire should be flattering, comfortable and stylish, Houston, TX based Fit Couture is one of the leading online boutique retailers.
"Comfort is so important to me when I am active," says Burke. "I like to wear pieces that move with my body and are flattering to my body type. I've always wanted to start my own clothing line and I've been a fan of Fit Couture's items for a while now so when they approached me about doing a line with them it just made sense."
"At Fit Couture we believe that exercise clothing should be functional, flattering, stylish and comfortable -- all philosophies that we share with Cheryl. We feel like Cheryl Burke by Fit Couture really captures her personality and sense of style. The pieces can be worn around the house, running errands and definitely can tolerate any workout, be it the gym or in the dance studio," states Amy Cerny of Fit Couture.
The debut collection for Cheryl Burke by Fit Couture will feature 9 pieces; 4 styles of pants, 3 styles of tops and 2 jacket styles all available in 4 different colors and color combinations. As with Fit Couture's original line, Burke's line offers a wide variety of sizes and pants inseams to fit and suit every body type. With prices ranging from $44-$88 all items, which are made in the United States, are available exclusively through http://www.Fitcouture.com.
For more information contact:
Susan Madore
Guttman Associates
310.246.4600
Susan (at) Guttmanpr.com
###