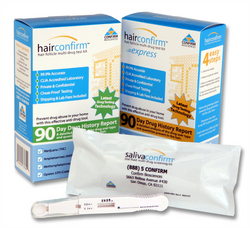 TestCountry just wanted the opportunity to test the waters and widen its network through the Google Affiliate Network
San Diego, CA (PRWEB) March 26, 2009
In order to expand the range and reach of its affiliate program, top health testing kits and drug test product distributor TestCountry.com partnered with Google Affiliate Network this February. This is in addition to the company's already existing affiliate networking arrangement with ShareASale.com.
"We are very happy with how ShareASale.com has worked with us in the last three years, and we are happy that the current relationship between TestCountry and Share-A-Sale is still going strong," said Olga Stoyan, affiliate manager for TestCountry.com.
"TestCountry just wanted the opportunity to test the waters and widen its network through the Google Affiliate Network," Ms. Stoyan added.
The Google Affiliate Network program with TestCountry.com was launched this February. Within a short period, over 1,000 affiliates of the drug testing kits distributor website signed up for the program, marking the effort as a complete success. Ms. Stoyan has expressed optimism that more TestCountry.com affiliates will be joining through the Google Affiliate Network.
As its name suggests, the Google Affiliate Network is the affiliate marketing arm of the search engine giant Google. The company was the result of the reorganization that Google made after it had taken over the operations of the DoubleClick Performics Affiliates network in March 2008. DoubleClick Performics was the first affiliate network that offers full service on the Internet. It was founded in 1998.
Ms. Stoyan noted that in the TestCountry.com experience, the Google Affiliate Network offered easy ways to jump start an affiliate marketing program through the network's interactive training webinar and affiliate manager system.
The Google Affiliate Network also rewards hardworking affiliates by conferring upon them VIP and Rising Stars Affiliate status, according to Ms. Stoyan. The network also promotes new merchants in the program through its forums and through its weekly newsletters.
Ms. Stoyan added that for our home testing kits online store, it is easy to manage information in the Google Affiliate Network. She said that the network allows its affiliate managers to make reviews on affiliate planner profiles. These profiles include information about audience classification and site traffic statistics.
On the other hand, ShareASale.com is a Chicago-based affiliate network that was founded on April 2000. Since its incorporation as an affiliate network, ShareASale.com has become one of the most respected and one of the most reliable networks on the Internet today.
Ms. Stoyan said that the strengths of ShareASale.com lie in the fact that the company is managed very professionally and has one of the best affiliate manager systems available today. ShareASale.com basically enables the affiliate manager to create customized categories for affiliate groups to make it easier to connect with the group's members. Communication is even more possible with other members through the ShareASale.com network via the website's newsletter tools.
Aside from this, Ms. Stoyan also stated that the ShareASale.com network also allows its affiliate managers to access their program's performance statistics as well as to generate updated reports. Uploading creatives is also easy to do with ShareASale.com.
About TestCountry:
TestCountry.com is an online home test kit superstore. The company offers home or work drug test kits for a variety of needs, including HIV / AIDS testing kits, pregnancy and fertility testing, paternity and DNA testing, substance use testing, health hazard detection, disease and cancer detection, and nutrition and wellness testing. TestCountry specializes in easy-to-use tests that can be individually administered in the security and privacy of a home or office. All shipments are packaged discreetly, thus respecting the privacy of clients. The company operates exclusively through their web site, found at Home Health & Drug Testing Kits, and features a question and answer section providing responses to many common concerns users may have related to the various types of home testing.
###