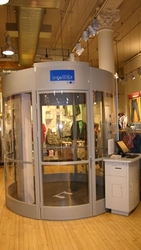 Unique has clearly demonstrated the value to consumers of being able to use their measurements in a range of applications.
Halifax, NS (PRWEB) March 24, 2009
Unique Solutions Design, LTD the market leader in 3D body scan measurement technology used for customized consumer products such as apparel and health and wellness announced today that Unique has acquired the majority interest of its top competitor, Philadelphia based Intellifit Corporation.
The acquisition brings forth strong retail brand partnerships such as Levi's®, Lane Bryant and Fashion Bug Stores who are already utilizing the technology to improve off-line and on-line traffic, conversion rates, higher purchases per transaction, reduce rates of product returns, higher customer loyalty, as well as improve inventory management by using body scanned measurements to more accurately determine size.
Intellifit's patented Virtual Fitting Room™ (VFR) is the only 3D whole body anthropometric scanner that can take measurements of a fully clothed individual. The VFR is fast, accurate, safe, unobtrusive and cost effective. Unique's original BodyScanner offers the same measurements but with the added benefit of measuring weight, height, and BMI which are used to produce comprehensive health reports.
"The power of the back end software from Unique combined with the broadened scope of body scanning capabilities from Intellifit has strengthened Unique Solution's position as the leader in fit technologies," adds Tanya Shaw Weeks, CEO of Unique Solutions Ltd. "This allows for a broader distribution of our scanners for capturing measurements and offering fit solutions for multiple applications including health wellness and product sizing."
The addition of the Intellifit VFR to the Unique product list, will allow high traffic locations such as department stores to offer clients the benefits of 3D body scanning improving sales, and reducing returns due to inaccurate sizes.
Intellifit systems have been deployed globally (e.g., U.S., UK, Italy, Japan, China) in over 30 retail and promotional settings including Levi's stores, NASCAR races, and select shopping malls.
"We are excited about the opportunity to become a part of Unique Solutions and help bring the benefits of 3D body scanning to the market," said Bob Kutnick, Former Sr. Vice President and CTO at Quarterdeck Corporation and current Intellifit shareholder. "Unique has clearly demonstrated the value to consumers of being able to use their measurements in a range of applications."
Unique is deploying 3D body scanners in North America through business relationships with entrepreneurs who own retail boutiques in up to 20 cities. The acquisition of Intellifit will broaden Unique's scanner offering, and enable the company to provide the appropriate scanner for the specific market opportunity be it boutique, weight loss center or large department store.
With the acquisition of Intellifit, Unique Solutions now has the largest and most comprehensive database in the world of body measurements.
Currently Unique's body scanners can be found in strategic locations throughout the world in the US, Mexico, Tunisa, Korea and Canada with aggressive deployment strategies through multiple channels planned by 2012.
About Intellifit
Founded in 2000, Plymouth Meeting, PA based Intellifit Corporation designs, develops and markets consumer measurement technologies that address apparel industry fit challenges. Intellifit has measured globally over 230,000 individuals which represents the largest sizing database of its kind in the world. http://www.intellifit.com
About Unique Solutions
Unique Solutions' vision is to lead a retail revolution that focuses on the individual. Its mission is to build and maintain a database of comprehensive, accessible and valuable body scan measurements that accurately reflects the diversity and shape of people worldwide and to provide individuals a portal to companies whose merchandise and services are designed to fit their needs, bodies & lifestyles. Unique Solutions is a market-leading technology company specializing in the development and commercialization of advanced body measurement technologies. The company's proprietary technology yields personalized data and body measurement information that readily translates into customized products and services. This provides added value to several multi-billion dollar growth markets including weight control, corporate wellness, total fitness and customized apparel. http://www.uniquescan.com.
Press Contact:
Desiree Ontiveros
Unique Solutions
(323) 605-5918
dontiveros(at)uniqueltd.com
###