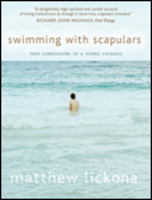 God, the devil, heaven and hell, Jesus and Mary, sin and salvation
(Vocus) March 24, 2009
A writer for an alternative weekly newspaper, film buff and music fan, 30-year-old Matthew Lickona may sound like another Gen-Xer working on his hipster credentials. Or, as a wine connoisseur, foodie and admitted coveter of "stuff," he might be taken for an aspiring yuppie. Lickona, however, is one of the "New Faithful" among his generation, committed to traditional Catholicism. In his book Swimming with Scapulars: True Confessions of a Young Catholic (Loyola Press, $19.95), he describes a faith that transcends the times.
Being Catholic means being "Other" in more profound ways than fish on Fridays. It's not easy to abide by the teachings of the church, Lickona acknowledges. His willingness to let sex be always open to life, as the church instructs, is part of the reason that before he was 30, he and his wife had four children. "More kids runs counter to the cult of cool," he says. "Who can be cool when changing a diaper?"
His faith is a source of great joy, however, particularly communing with God through the sacraments. "If you ask me why I am a Catholic, my first answer is the Eucharist," he says. "I want that communion with God. I need it."
It's a faith that not even the priest sex abuse scandal can cloud, though he endured an encounter with a priest whose excessive displays of affection crossed the line. He can muster pity for the priest, but his anger is reserved for the hierarchy's defensive reaction. "I can understand wayward flesh," Lickona says, "but when the response from the pastors of that flesh gives the impression of one Episcopal eye being cast toward the courtroom, I have a harder time forgiving."
A cradle Catholic, his faith is both gift and habit, he says, and these "true confessions" are an attempt to wipe away the tarnish brought on by familiarity, allowing a clear look at what and why he believes. Lifelong intimacy with "God, the devil, heaven and hell, Jesus and Mary, sin and salvation" may offer a feeling of security, but it can breed complacency, too. He tells of his not-always-successful striving to remain attentive to what lies at the core of his faith: "the redemptive and exemplary suffering of Jesus Christ."
Chronicling his life as a Catholic, Lickona tells of how he has been sustained by the robust intellectual tradition of the church, but also by old-fashioned sacramentals like the scapular and statues of the saints; his appreciation of his parents' deep faith—even while sometimes chafing at his mother's piety; his embarrassment when asked to explain his beliefs; and his grappling with personal sin and moral issues from anger to almsgiving.
He says he knows there are those will think he is a loon. "Eating Jesus? Home-schooling families with ten kids? Lighting candles in front of statues, confessing sins to a priest in a box? Fanatics." But perhaps coming from a fanatic, he muses, "the message of God's love will regain some of its wonderful outrageousness: 'Listen, I have a secret. I eat God, and I have His life in me. It's the best thing in the world; it leads to everlasting life. But first, you have to die to yourself."
Swimming with Scapulars: True Confessions of a Young Catholic
by Matthew Lickona
Loyola Press
ISBN: 978-0-8294-2471-3, $19.95 Hardcover
###