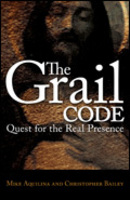 (Vocus) March 24, 2009
Curiosity and controversy surrounding the Holy Grail reached a fever pitch after Dan Brown's bestselling novel The Da Vinci Code. Since the early Middle Ages, storytellers have continually reworked and renewed the powerful Grail myth, but behind this resonant symbol lies a profound Christian meaning that remains vital despite countless incarnations. And this meaning, according to The Grail Code: Quest for the Real Presence (Loyola Press, $15.95, paperback), is found in humankind's eternal desire to experience the Real Presence of Christ.
As authors Mike Aquilina and Christopher Bailey explain, what drives all the Holy Grail stories is the yearning to know Christ, and the promise of communion with the divine. This spiritual thirst has kept the Grail fixed in the Christian imagination for centuries.
Rather than offer a critique of the "sacred feminine" ideas found in The Da Vinci Code and other works, Aquilina and Bailey chart the evolution of the Holy Grail as a complex literary theme rooted in Biblical history, born at the moment that Jesus raises his cup to the disciples at the Last Supper. The story continues through the Dark Ages, when the memory of Christianity's most sacred relic mingles with Celtic lore telling of charmed cups and cauldrons offering uncanny power. The various strands meet in the aristocratic courts of medieval Europe, where court writers such as Chrétien de Troyes conjure the Holy Grail that modern audiences would recognize, the one at the center of King Arthur's legendary reign. Arthur's world becomes an elaborate Christian allegory, in which the Knights of the Round Table quest for the Grail, learning through their struggles that, no mere piece of treasure, the Grail promises the grace of God, a blessing for the faithful rather than a prize for the bold.
Combining the theologian's instructive voice with the ardor and pacing of a master storyteller, The Grail Code appeals to readers who wish to better understand the perennial spiritual meaning behind the Grail myth and the reasons why we are driven, in literature and in life, to reach for the divine. The Grail Code also offers Catholics an invaluable guide that empowers them to engage the popular culture—without falling prey to "Grail nonsense." For this purpose, the authors have included an afterword addressing the more fanciful Grail fictions currently in circulation, as well as recommendations on where readers can continue their exploration of the Grail.
Mike Aquilina is author of a dozen books on Christian history, doctrine, and devotion. He is vice-president of the St. Paul Center for Biblical Theology and has been co-host of five popular television series.
Christopher Bailey has worked as a writer, editor, translator, and researcher for more than 15 years. His articles have appeared in Touchstone, Columbia, New Covenant, The New Catholic Encyclopedia (Second Edition), and elsewhere. Schooled in the great-books tradition, he has spent many years in close study and translation of the Arthurian texts.
The Grail Code: Quest for the Real Presence
By Mike Aquilina and Christopher Bailey
Loyola Press
ISBN: 978-0-8294-2159-0, Paperback $15.95
###