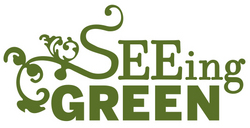 The design question of how one can do the right thing and do well is a tremendous source of inspiration and exploration
Los Angeles, California (PRWEB) March 24, 2009
AIGA/LA presents its second annual SEEing Green Conference on sustainable design at the Skirball Cultural Center on Saturday, April 25, 2009, from 8:00AM to 4:00PM. SEEing Green 2: Moving Beyond Green will explore how brands can move beyond green by widening the way we think about design.
"The design question of how one can do the right thing and do well is a tremendous source of inspiration and exploration," said Duke Stump.
Three keynote speakers will talk about the latest ideas in sustainable design and moving beyond deliverables to green design as a brand strategy. They will explore new ways of approaching sustainability for designers and their clients including business strategy, best practices for responsible design and production (without compromising aesthetic and cost), and methods to create informed and relevant brand positioning.
"I am confident that through collaboration and adoption of responsible practices we can find design, strategy and marketing solutions that will allow us to continue to prosper while not compromising the ability of future generations to survive and thrive," said Aaris Sherin.
Aaris Sherin, author of SustainAble: A handbook of materials and applications for graphic designers and their clients (Rockport Publishers), will discuss "Sustainable Problem Solving". Aaris will talk about changing practices in agencies, including talking to clients, writing briefs and developing best business practices to incorporate sustainability into your firm. Aaris believes, "It is vital that designers and marketers are able to show that their work adds value to brands and positively impacts a company's bottom line. Adopting more environmental and socially responsible practices is an opportunity for companies to differentiate themselves."
Duke Stump, Principal & Chief Architect of The Northstar Manifesto, former CMO of Seventh Generation and VP of Nike will present on the cultural changes affecting how we approach branding in "Shift Happens". Duke is a brand guru who will talk about how to create an authentic and intuitive sustainable brand strategy. Duke describes this opportunity for firms to learn to design sustainably: "It truly is a white canvas in which to design and create a new possibility. Unleash the creativity that rests within your brand."
Kevin O'Donnell, Al Gore's prolific Climate Project speaker and director of WD Ecologic, will present "Green Design - Thinking Beyond Deliverables". Kevin will discuss how to make sustainability relevant to our design community with practical ideas for any size firm. Kevin will address the economics of going green as well: "Many green issues include efficiency…. Getting people over the preconception that green is automatically more expensive is a more difficult hurdle now, but economic challenges require innovative thinking... At its core sustainable design is all about innovation."
In addition to the speakers, one and a half hours of content from Compostmodern will be recast. Compostmodern is the annual conference presented by AIGA SF and AIGA's Center for Sustainable Design. The recast will feature inventor and eco-preneur Saul Griffith, Core77 editor-in-chief and industrial design educator Allan Chochinov and Emily Pilloton, Project H Design Founder.
Anyone interested in sustainability and design is welcome to attend.
AIGA members attend for $45; student members attend for $25. Non-members attend for $60; student non-members attend for $35. Tickets will be $15 extra at the door, pending availability. Ticket includes morning coffee service and afternoon sandwich buffet and drink. The first 50 people to register will receive a goodie bag with items from Studio Number One, YogaWorks, Pangea Organics, The Organic Pharmacy, CamelBak, Clif Bar, Icelandic Glacial, Monrovia and Steaz Energy.
Please register by April 6, 2009, at http://seeinggreen.eventbrite.com/
For more information visit: http://aigalosangeles.org/events/2009/04/seeing-green-2.php
The Skirball Cultural Center is located at 2701 North Sepulveda Blvd., Los Angeles, CA 90049 (310-440-4500, http://www.skirball.org).
About AIGA/LA
AIGA Los Angeles is one of the first independent chapters of AIGA, the largest professional association for design in the country. AIGA/LA serves as a local hub for the design community and celebrates excellence in design through its conferences, competitions, exhibitions and publications. AIGA/LA is committed to helping all designers achieve their greatest potential as significant contributors to the economic and cultural vitality of our region.
When you join AIGA Los Angeles, you become part of a group committed to promoting design as a professional craft, strategic tool for business and global cultural force. http://www.aigalosangeles.org.
Contact information:
Kim Flum
310.945.7499
kim (at) aigalosangeles.org
http://www.kimflum.com
###