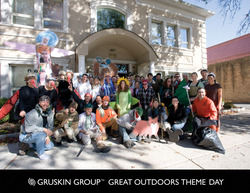 Once we had completed this process last December, one of my LEED AP designers emailed me with Gruskin Group's™ total carbon footprint offset calculation that took into account our firm's entire operation including all of our employees' commuting impact
Springfield, NJ (PRWEB) March 25, 2009
Gruskin Group™ of Springfield, NJ, has made a commitment to provide a zero carbon footprint for 2008 by planting 3,000 trees in North American Forests. "As an integrated design firm, with LEED AP accredited professionals, offering distinct practice groups in architecture, branding, strategy, interior design, industrial design, graphic design, planning, and interactive with 'green' and 'sustainable' approaches, we felt it was important to lead our clients by example," explains Kenneth A. Gruskin AIA, Principal of Gruskin Group™.
Like many of the companies it advises today through its LEED services, Gruskin's firm has begun to implement numerous strategies to reduce their carbon footprint impact on the environment. "When one of our staff pointed out all of the trees we might save by taking a closer look at our intensive use of paper in our daily practice, it occurred to me that until we can reduce our paper consumption down to almost zero, we could at least replace the trees we are consuming," states Gruskin. Based on various formulas of paper yield per tree and paper consumption per staff, Gruskin and his LEED team determined that planting 1,000 trees would provide more than the minimum offset.
Gruskin Group™ decided to plant the 1,000 trees through American Forests Global Releaf Campaign, a proactive, non-profit organization planting trees in the United States and abroad since 1989. The trees are designated to be planted as part of their California Wildfire ReLeaf project. "Once we had completed this process last December, one of my LEED AP designers emailed me with Gruskin Group's™ total carbon footprint offset calculation that took into account our firm's entire operation including all of our employees' commuting impact," added Gruskin. The carbon footprint calculation incorporates various factors such as building size, location, employee count, commuting time, and average consumptions.
The result: Gruskin Group™ generates about 550 tons of CO2 per year and the 1,000 trees we had already planted would only offset about 166 tons of CO2 (assuming a 25 year timeframe) or one-third of our total yearly carbon footprint emissions. Gruskin continues, "That would not do, so we chose to plant another 2,000 trees to offset the remaining two-thirds of our 2008 carbon footprint."
For 2009 and beyond, Gruskin Group™ has made the commitment to continue to plant trees or engage other resources to effectively offset their entire operational carbon footprint, reducing their impact on the environment. "Until we can reduce our net operational carbon footprint to zero through on-site facility improvements, operational changes, and other proactive approaches, we will continue to utilize organizations like American Forests to offset Gruskin Group's™ carbon footprint." Gruskin concludes, "We like to make the metaphorical statement to our clients that at Gruskin Group™, we care for the individual 'trees' while effectively managing the 'forest'. Now, we can say we're planting it too."
For more information, please visit Gruskin Group™.
About Gruskin Group™:
An RDI, ASID, NJ Ad Club award winner, the Gruskin Group™ team of 55+ designers, architects, LEED accredited professionals, and support staff work in a collaborative style that integrates architecture, branding, strategy, interior design, industrial design, graphic design, planning, and interactive/multi-media to create inspiring solutions for its corporate and commercial clients. Projects have included retail and corporate design, brand identity, plus assignments in telecommunications, entertainment, technology, high-end residential, multi-family, hospitality, consumer electronics, real estate, finance, insurance and houses of worship. Gruskin Group™ is committed to developing visionary concepts that lead to excellence - and following those concepts to completion to ensure the creative work is executed as intended.
About Kenneth A. Gruskin:
Kenneth A. Gruskin, AIA, PP, CID, RDI is a registered architect, professional planner, and certified interior designer. A licensed architect in 47 states, the District of Columbia, and Puerto Rico, Ken is the founding Principal of Gruskin Group™. Ken received his architectural training at Cornell and Harvard Universities. His work has been featured in various media, and he has been a guest on CNN FN, Bloomberg TV and radio, and TV 12 Spotlight. He has been interviewed on and written articles on branding and architecture that have been published in numerous publications.
Contact:
Bob Lyons
Gruskin Group™
Director, Marketing Services
294 Morris Avenue
Springfield, NJ 07981
973.376.4411 ext. 234
# # #