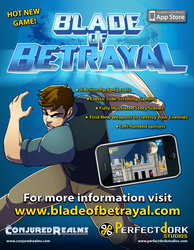 The game is pure fun. It features cool art and rockin' music to make each level unique and memorable. We have also implemented several new techniques that significantly enhance the play control
Austin, TX (PRWEB) March 25, 2009
Perfect Dork Studios announces the availability of "Blade of Betrayal" for iPhone and iTouch. Co-developed with Conjured Realms, "Blade of Betrayal" is a single-player running, jumping, fighting action game that focuses on high-tech swordplay. The player travels through different levels fighting enemies on the way. Each of the levels is tied together with a revenge storyline featuring comic-style retro graphics and a catchy rock electronica soundtrack.
In "Blade of Betrayal," the protagonist, Spencer Corinth, seeks vengeance against those who killed his father. Through the adventure Spencer finds out that deception runs deep and justice must be served. The player uses touch activated screen buttons to move and attack. Each level has hidden and locked areas that can be entered only after finding the proper keys. This exploration with purpose rewards the player with upgrades to their health bar and weapons energy. The player will also be able to find four special weapons that will give them the edge against enemies large and small.
"The game is pure fun. It features cool art and rockin' music to make each level unique and memorable. We have also implemented several new techniques that significantly enhance the play control," said Billy Garretsen, founder/president, Perfect Dork Studios.
"Blade of Betrayal" features retro style gameplay, but with a modern control layout that allows some customization, including options for left-handed players. The high production value16-bit sprite graphics and fully illustrated story art separate it from other iPhone platformers. Perfect Dork Studios created the concept, design, story, music and art for the game. Blade of Betrayal.
Perfect Dork Studios' additional 2009 game releases include:
May - "Bumble Tales" for the PC, Mac and iPhone. Co-developed with Tandem Games, "Bumble Tales" is a creative and expansive twist on traditional Match-3 puzzle game that mixes in elements of city planning and item collection. In this all-ages friendly game you must gather your resources and help the little forest-bound society of Bumbles build their ideal town. As you explore the 35 unique and entertaining tales you discover new facts about each character to unlock their stories. With vibrant art, memorable music and full voice-over, "Bumble Tales" offers a catchy experience that will have the whole family playing. Perfect Dork Studios created the character design, art direction and art production. Bumble Tales.
Fall - "Box Macabre" for PC and Xbox Community Games. The XNA-based "Box Macabre" features fast-paced action and adventure style gaming set in a fantasy afterlife. The game uses the new Torque X 3D engine from GarageGames. Your soul has been trapped in a box and you must use your wits to find salvation. On the way you will learn the secrets of the underworld and play a part in the never-ending battle against evil. Discover new abilities to solve puzzles. Explore imaginative fantasy worlds. Classic 2D game play with 3D graphics. Box Macabre.
About Perfect Dork Studios:
Perfect Dork Studios is an Austin, TX based video game development and multimedia studio. Founded in 2007 by Billy Garretsen, their animation work has been featured on Right Guard's RGXLife.com, a men's lifestyle website sponsored by The Dial Corporation. Perfect Dork Studios previous release, "Aim For The Brain!" for iPhone, was rated 4.5 mice by Macworld and called a well crafted game that delivers a fun experience.
For more information please visit Perfect Dork Studios.
Check out Perfect Dork Studios' development blog Perfect Dork Studios Development Blog.
# # #