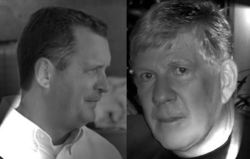 The oil industry has become American's shadow government complete with free use of our arm forces to protect its products and profits. Our service men and women die to protect their profits, and billions in tax dollars are used to support their industry.
Silsbee, TX (Vocus) March 25, 2009
Batman is a true super hero to Senator Katherine Laforge. With stakes higher than they've ever been, Batman and his supporters race to solve the energy crisis that threatens to enslave America to OPEC's forever. One benefit of writing a book is meeting the real people that live within its pages, states David Hearne the author of "Hulagu's Web – The Presidential Pursuit of Senator Katherine Laforge." In his book about a woman running for President on a green energy platform, the Senator meets or consults with many pioneers in the alternative energy business. One such person mentioned in the story is the flesh and blood Kent Batman of Hardin Fuels Inc. When Hearne was writing Hulagu's Web he had read numerous articles about Batman and his emerging biodiesel company. Hearne was excited about Kent Batman not only because he had started a biodiesel company but also because he was speaking out about alternative energy and the problems that start up companies have competing with their nemesis Big Oil.
In the book "Hulagu's Web," Hearne speaks of a tacit campaign between elected officials and energy titans to impede the adoption of alternative energy and to disillusion the public to its usefulness. The bottom line states Hearne, "The message that the public gets from those who control the media is that alternative energy does not provide a way to eliminate our need for OPEC oil, coal burning power plants or the use of nuclear energy. I found it interesting when talking to Mr. Batman that he expressed some of the same concerns, basically that a great deal of misinformation is repeated so often that these untruths becomes reality to much of the public."
When Hearne presented Kent Batman with a copy of his book, he had a chance to hear Hardin Fuels Inc president voice his views on the current direction of alternative energy. It was an interesting conversation that quickly exposed another fallacy about alternative energy. Most people equate the alternative energy movement to the democrats but Kent Batman is a Republican, not just a registered republican voter, but Hardin County's Republican party Chairman. In Hulagu's Web," Senator Laforge was a renegade Republican alienating many of her party officials because she was running on a green energy platform. The fact that Kent Batman is a Republican and a pioneer in biofuels, living in a state famed for its connection to Big Oil speaks volumes of the emerging changes going on in today's energy revolution. The truth is that many individuals spearheading the alternative energy movement are Republicans. Sam Wyly who started Green Mountain Energy Company and of course T. Boone Pickens who intends to build the world's largest wind farm ever are self made billionaire green Republicans. The movement to free us from OPEC is a desire shared by many members of both major parties.
One of the problems discussed by Hearne and Batman was the repercussions Big Oil's price fluctuation has on fledgling Green Energy producers. In short it is devastating to poorly funded alternative energy companies. Hearne feels that even when Big Oil drops prices below prevailing green energy prices, a moral responsibility remains to buy American made alternative energy if available. As long as we continue to buy imported oil from countries that want our destruction, we become our enemy's partners in our own destruction. It is OPEC's tremendous profits that buy the bullets and bombs that maim and kill our sons, daughters, husbands, wives, brothers and sisters in lands that have been at war for centuries.
Hearne shares Batman's fervent belief that we have the technology available today to free us from Opec's tentacles but powerful corporate and political factions strive to keep this from happening because it threatens their bottom line or their political power.
An excerpt from Hulagu's Web where Senator Katherine Laforge talks about freeing us from OPEC's clutches reads, "The oil industry has become American's shadow government complete with free use of our arm forces to protect its products and profits. Our service men and women die to protect their profits, and billions in tax dollars are used to support their industry."
"It is a very gloomy assessment of our government's marriage to Big Oil," Katherine offered, "but as repugnant as it sounds, it is where we are today."
Both Hearne and Kent Batman agree that one method to replace fossil fuels is the use of algae as the crop for the production of biodiesel. Algae can be grown on land unsuitable for food-crops and its annual acre output is from 2000 to 20000 gallons per year depending on the algae strain and how it is grown. Many individuals are harvesting algae that can be grown in shallow tanks over open water. There are currently numerous algae operations sprouting up in Texas and Louisiana.
Bio diesel is an industry that is attacked by many adversaries that perceive it as a threat to their future profits. The attacks take on numerous forms. Misinformation is one commonly employed to destroy an industry. You will find falsities that creating biodiesel takes food off your table, that biodiesel cause tremendous pollution, that it takes more energy to create than it produces and finally that it could never replace fossil fuel.
Kent Batman quoted the Greek philosopher Perecles, "The businessman who is not tending to politics is not tending to business". Someone is obviously tending to politics better than the biodiesel folks." But I think Mr. Batman with his obvious involvement in politics is helping to change much of that.
Business owners can gain many advantages from the biofuels industry and Kent feels it is time for owners to quit watching and start participating in this energy revolution.
Emerging from the pages of David Hearne's "Hulagu's Web" is a thesis that members of congress and groups of businessmen clandestinely work together, backed by substantial funds, to corrupt the present democratic system to establish their own plutocracy. Unfortunately, the proposition is a believable scenario and as the story unfolds, some will find themselves wondering if it has not already happened. Hulagu's Web is more than a novel of political intrigue; it questions and thoughtfully considers grave problems of our contemporary, global society.
Kent Batman is President of Hardin Fuels Inc. a Southeast Texas corporation providing fuel and livestock feeds. More information about Kent Batman and his company at : http://www.hardinfuels.com/
"Hulagu's Web – the presidential Pursuit of Senator Katherine Laforge" is available at Amazon.com and at your local independent bookstores. More information about the book and David Hearne can be found at http://www.hulagusweb.com.
###