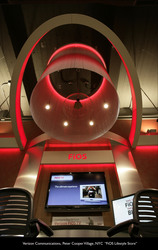 Once inside, they would become surrounded by a FiOS digital river, experiencing the product in an immersive, visceral way
Springfield, NJ (PRWEB) March 26, 2009
Gruskin Group™ of Springfield, NJ, has won an "Award of Merit" in the Retail Design Institute's (RDI) 2008 International Store Design Competition. The competition recognizes outstanding retail design projects completed in 2008. Gruskin and his team received the award in the "Retail Service" category for the Verizon Communications (VZC) Peter Cooper Village Store (PCV) that they designed and opened in 2008 in New York City.
Kenneth A. Gruskin AIA, Principal of Gruskin Group™ explains that, "VZC had become the preferred telecom provider to the PCV community. They needed to open a store within the PCV neighborhood to support this role and provide a dramatic presentation of their FiOS product in the New York marketplace. Our design for this store incorporated many of the previous learnings we had gathered from creating other Verizon Communications and Verizon Wireless stores, fixtures and customer touch points. Working closely with them on recent projects like their flagship Verizon 'Experience' stores and our continued support of Verizon Wireless's retail channel were instrumental in providing us with the intimate knowledge of their brand, products and customers that provided the underlying basis of the PCV store design."
The unique look of the store initially unfolded as the Gruskin Group™ team explored the best approaches to provide a captivating and memorable FiOS experience. "When we began to brainstorm how to communicate to customers that FiOS was not just a cable alternative, but something special and ground breaking in its quality, capabilities and experience, we imagined taking them inside the FiOS network like the characters in the movie, "Tron." Once inside, they would become surrounded by a FiOS digital river, experiencing the product in an immersive, visceral way," says Gruskin.
The resulting store concept required Gruskin Group™ to provide Verizon Communications with its full suite of integrated design services in architecture, branding, strategy, interior design, industrial design, graphic design, interactive and IT services to design and execute the new store concept and achieve the project's vision.
For more information, please visit Gruskin Group™
Contact:
Bob Lyons
Gruskin Group™
Director, Marketing Services
294 Morris Avenue
Springfield, NJ 07981
973.376.4411 ext. 234
About Gruskin Group™:
An RDI, ASID, NJ Ad Club award winner, the Gruskin Group™ team of 55+ designers, architects, LEED accredited professionals, and support staff work in a collaborative style that integrates architecture, branding, strategy, interior design, industrial design, graphic design, planning, and interactive/multi-media to create inspiring solutions for its corporate and commercial clients. Projects have included retail and corporate design, brand identity, plus assignments in telecommunications, entertainment, technology, high-end residential, multi-family, hospitality, consumer electronics, real estate, finance, insurance and houses of worship. Gruskin Group™ is committed to developing visionary concepts that lead to excellence - and following those concepts to completion to ensure the creative work is executed as intended.
About Kenneth A. Gruskin:
Kenneth A. Gruskin, AIA, PP, CID, RDI is a registered architect, professional planner, and certified interior designer. A licensed architect in 47 states, the District of Columbia, and Puerto Rico, Ken is the founding Principal of Gruskin Group™. Ken received his architectural training at Cornell and Harvard Universities. His work has been featured in various media, and he has been a guest on CNN FN, Bloomberg TV and radio, and TV 12 Spotlight. He has been interviewed on and written articles on branding and architecture that have been published in numerous publications.
###