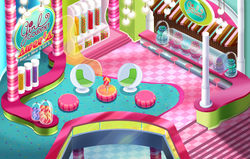 The virtual environment that Fuel built for Spark City truly captures the spirit and fun of Girl Gourmet, and gives kids and parents an introduction and play experience with the brand before even stepping foot into a store.
(Vocus) March 24, 2009
Spark City, the all-new virtual world for tween girls, has arrived. Now available to play as an open beta, the world extends the AllGirlArcade.com gaming community and invites girls to enter a bustling futuristic metropolis that is theirs to explore.
From the park to the Arcade to the pet shop, which allows players to choose and train a pet for their avatar, Spark City is a thriving world that is based around socialization, activities, and an in-game economy. The more girls participate, play games and interact, the more gems they earn. Collected gems allow girls to visit the mall and buy everything from new furniture for their apartments, to gifts for their friends.
With children's safety top of mind, Spark City employs innovative social features that allow girls to interact in a secure environment and create friendships with their peers.
Brand Integration
On top of constant growth of the virtual world is an opportunity for brands to integrate custom content into Spark City. One of the first of these brand innovators is leading toy manufacturer JAKKS Pacific, which has partnered with Fuel to bring award-winning Girl Gourmet® brand into the virtual world. Players will be invited to enter a custom Girl Gourmet store, which includes a cupcake shop, Cake Bakery, Sweets candy stand, and an original web game allowing kids to play with the cupcake maker and design their own cakes online. JAKKS Pacific is an example of how forward-thinking companies are finding ways to go beyond store shelves to give their customers a rich experience with their product.
"With the success of the JAKKS Girl Gourmet Cupcake Maker, we wanted to give kids a new way to interact with our brand," said Gerhard Runken, Director of Marketing, JAKKS Pacific. "The virtual environment that Fuel built for Spark City truly captures the spirit and fun of Girl Gourmet, and gives kids and parents an introduction and play experience with the brand before even stepping foot into a store."
Mobile Games
Spark City is a fully integrated experience which reaches multiple touchpoints for its audience. Launching alongside the world is a series of iPhone and iPod Touch games that extends the world into its users' palms. The first of these, Sushi Toss, is a graphically rich and charming 2D game which makes unique use of the iPhone's accelerometer controls. As players help Stray the robotic cat and friends serve the sushi in-game, the gems they earn on their iPhone or iPod Touch are immediately tied back to their virtual world account, which they can use on their computer at home to expand their experience. Sushi Toss is now available as a 99 cent download on the iTunes App Store.
Spark City is tied to Fuel Industries' All Girl Star Squad property; kids can learn more and open their free accounts at http://www.allgirlarcade.com/sparkcity.
Key Facts

Constantly growing world set in a gleaming futuristic metropolis
World is open to marketers wishing to create interactive online spaces
Average 45 minutes engagement time, 80% of users return multiple times.
Customizable avatars, personal in-game spaces, and a mall for expanding the experience
Girls find online games by exploring, and win in-game currency by playing
Innovative socialization in a secure and empowering environment
Pet store which bring animal companions to life in each girl's personal apartment.
About Fuel Industries
Fuel Industries is a multiple award-winning interactive studio that lives at the intersection of marketing and entertainment. With over 100 employees and presence in Canada, the US, and the UK, Fuel has built audiences by creating entertaining online experiences both for major international brands and its own licensed entertainment properties. Fuel's diverse holdings include interests in game development, video production, sound design, social media, and mobile marketing. Passionate about redefining the interactive agency and inventing the future of online content, Fuel's clients and joint venture partners include Microsoft, Vans, McDonald's Global, and HBO. For additional information, visit http://www.fuelindustries.com.
About JAKKS Pacific, Inc.
JAKKS Pacific, Inc. is a multi-brand company that designs and markets a broad range of toys and consumer products. The product categories include: Action Figures, Art Activity Kits, Stationery, Writing Instruments, Performance Kites, Water Toys, Sports Activity Toys, Vehicles, Infant/Pre-School, Plush, Construction Toys, Electronics, Dolls, Dress-Up, Role Play, and Pet Toys and Accessories. For further information, visit http://www.jakkspacific.com.
For more information, please contact:
Nick Iannitti
Director of Communications
nick(at)fuelindustries.com
613-818-3560
###