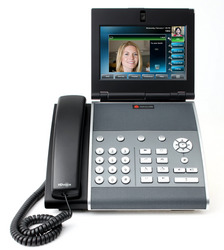 We're delighted to bring the VVX 1500 to market. It redefines workplace communications by enabling high definition telephony, personal video conferencing and integration with business applications, all of which combine to improve team collaboration
Englewood, Colo. (Vocus) March 25, 2009
IP5280 Communications, a specialist in unified IP-based communications for business, announced today the launch and immediate service availability of the Polycom® VVX™ 1500 business media phone. The new device is the first of its kind and redefines desktop communications by combining a personal video conferencing system with high definition call quality and the ability to integrate with key business applications. The VVX 1500 seamlessly integrates IP telephony and user-level application functionality with an intuitive color LCD touch-screen interface that brings the long-overdue experience of interactive video to the desktop of businesses.
"Not only can you hear the proverbial 'pin drop' with IP5280's high definition call quality, but now you can actually see it with the VVX 1500," said Jeffrey Pearl, co-founder and managing partner of IP5280 Communications. "Polycom has cracked the code on bringing personal video communications to the small and medium-sized business at an affordable price."
The VVX 1500 enables face-to-face collaboration, simplifies multi-media communications and can reduce travel costs in the business environment. The device utilizes an open programming interface and microbrowser, enabling the VVX 1500 to support the delivery of real time personalized web content and information services unique to the business user.
"We're delighted to bring the VVX 1500 to market. It redefines workplace communications by enabling high definition telephony, personal video conferencing and integration with business applications, all of which combine to improve team collaboration," said Jim Kruger, vice president of marketing for Polycom Voice Communications Solutions. "We're pleased to work with the IP5280 team in bringing the VVX 1500 to market and recognize them for their customer delivery model and their feature-rich IP telephony services."
"As an Integrated Marketing agency, I rely on our team's ability to collaborate, brainstorm and create ideas for our customers," commented Arnold Gonzalez, Managing Principle of The GWP Agency based in Denver, Colorado. "It's no surprise that it is easier to communicate with someone when you can read their facial expressions, this redefines the phone call."
As one of the leading providers of unified IP communications and HD Voice services in the U.S., IP5280 is uniquely positioned to consult, design and deliver the Polycom VVX 1500 to businesses. IP5280 offers a range of Hosted VoIP and SIP Trunking packages for service integration with the VVX 1500. Service capabilities deliver user-level IP telephony functionality, IP5280's HD Voice, personal video conference capability along with the ability to integrate with business applications.
About IP5280:
IP5280 Communications is a next generation global unified IP communications provider specializing in VoIP and converged IP voice and data services, trusted by thousands of enterprises, users, communication agents, partners and wholesalers of IP managed services throughout the world. Among the Top 10 Best Companies to Work For in Colorado, and proudly ranked as a part of the elite Colorado TOP250, IP5280 provides businesses the most advanced IP solutions to meet a variety of voice, data and IP networking needs. Visit http://www.IP5280.com or call (303) 800-0000.
###