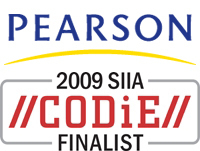 NovaNET has proven time and again to be a vital tool in helping at-risk students turn their lives around and dramatically improve their academic performance
New York, NY (PRWEB) March 25, 2009
NovaNET, the comprehensive, online courseware for grades 6-12 and adults, is a finalist in the Software & Information Industry Association's 24th Annual CODiE Awards. The online program from the education and technology company Pearson is recognized in the Best Virtual School Solution for Students category.
Established in 1986, the CODiE Awards celebrate outstanding achievement and vision in the software, digital information and education technology industries. Chosen through a unique combination of journalist and expert peer review, the CODiE finalists were chosen from more than 850 nominations submitted by 600 companies.
NovaNET is an all-inclusive system that delivers a return on investment quickly, from delivering thousands of hours of research and standards-based, interactive curriculum, to integrated assessment and student management. Middle school students use NovaNET to prepare for high school while high schoolers can recover credits, build basic skills and prep for the GED or SAT with the online system. NovaNET is delivered to students online from secure servers dedicated exclusively to the courseware, offering students and schools maximum flexibility. Aligned to state and national standards, NovaNET offers students access to learning success any time, any place at any pace.
"NovaNET has proven time and again to be a vital tool in helping at-risk students turn their lives around and dramatically improve their academic performance," said Bob Roliardi, President, Pearson Digital. "It's an honor to be recognized by the technology industry in this way."
"This program absolutely changed my life," said Cyndi Bishline, 2008 NovaNET Scholarship winner. "I truly believe that without NovaNET, I would have dropped out of high school for good. I will never forget the day that I was told I would be able to graduate on time and would have a 'regular' senior year!"
Mark Dragich, a former NovaNET Scholarship winner and new graduate of the University of Hawaii, recently participated in an educator podcast to discuss how NovaNET helped make a difference in his life. It can be heard here: http://www.pearsonschool.com/InSchool.
Overall, seven Pearson products were named as finalists in nine categories in the 24th Annual CODiE Awards In addition to NovaNET, the honored products are DRA2™ Handheld - Tango™ Software Edition, Pearson eCollege®, MyCompLab®, Perspective, PowerSchool® Premier 5.2 and PowerTeacher. With these K-12 and higher education curriculum, classroom management and assessment products, Pearson tops the education industry categories with more finalists than any other company.
In the next step of the CODiE Awards process, SIIA members vote to determine the winners in each category. The 2009 CODiE Awards will be presented at a gala event on May 5 at the Palace Hotel in San Francisco.
About SIIA
The Software & Information Industry Association (SIIA) is the principal trade association for the software and digital content industries. SIIA provides global services in government relations, business development, corporate education and intellectual property protection to more than 500 leading software and information companies. For further information, visit http://www.siia.net.
About Pearson
Pearson (NYSE:PSO), the global leader in education and education technology, reaches and engages today's digital natives with effective and personalized learning, as well as dedicated professional development for their teachers. This commitment is demonstrated in the company's investment in innovative print and digital education materials for preK through college, student information systems and learning management systems, teacher professional development, career certification programs, and testing and assessment products that set the standard for the industry. The company's respected brands include Scott Foresman, Prentice Hall, Addison Wesley, Benjamin Cummings, PEMSolutions, Stanford 10, SuccessNet, MyLabs, PowerSchool, SuccessMaker and many others. Pearson's comprehensive offerings help inform targeted instruction and intervention so that success is within reach of every student at every level of education. Pearson's commitment to education for all is supported by the global philanthropic initiatives of the Pearson Foundation. Pearson's other primary businesses include the Financial Times Group and the Penguin Group. For more information, go to http://www.pearson.com.
For more information, press only:
Rod Granger, Pearson, 212-641-6114
Lisa Wolfe, L. Wolfe Communications, 773-227-1049
###