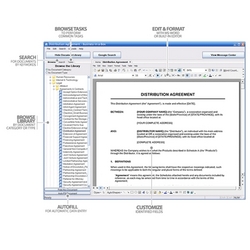 In today's tough economic climate it's important to get things done fast and efficiently. No one can afford to spend hours writing a standard document when a professional template is already available
Montreal, Quebec (PRWEB) March 25, 2009
Biztree is pleased to announce the release of Business-in-a-Box Chinese edition and Business-in-a-Box Spanish edition. With over 800,000 satisfied users, the company is poised to double its user base by year end.
Given that there are over 40 million SMBs in China and that Spanish is third most spoken language in the world, Biztree is foreseeing a potentially huge increase in its user base. The new language editions not only reflect today's interconnected global economy, but also a growing need for smart, business productivity tools.
What Business-in-a-Box helps accomplish is the rapid, and ultimately painless, writing of a wide variety of business documents.
The collection of 1,300 templates - available in Spanish, Chinese, French and English - covers common documents such as the ever popular business proposal, the essential business plan, a marketing plan, sales letters, an income statement and typical legal agreements like consulting agreements, distribution contracts and partnership contracts.
The recent addition of a "Tasks" module in the writing software also helps SMBs identify the documents they need to run a business. A long-time supporter of small business and entrepreneurs, Biztree aims to create tools that provide a competitive advantage and boost productivity. The company plans on making Business-in-a-Box available in at least 10 languages, with Portuguese, Arabic and German coming next.
"In today's tough economic climate it's important to get things done fast and efficiently. No one can afford to spend hours writing a standard document when a professional template is already available," said Jing Hu, the company's Sales Director for the East Asia market.
Indeed, the beauty of this product is that almost every business person can derive tremendous value out of it. The legal team behind the company made sure it is extremely easy to come out with a valid, working contract by simply customizing a few identified sections. In fact, they also have press release templates that could make writing releases like this one a snap!
About Biztree Inc.
Founded in 2001, Biztree develops and markets productivity software addressed to small/medium-sized businesses and home-office entrepreneurs. The company's mission is to empower business people from around the world to reach their full potential. Since its inception, Biztree has been delivering high quality and practical, yet affordable, products.
Biztree is a privately-owned corporation with offices in the United States (New York), Canada (Montreal) and the United Kingdom (London).
Contact:
Marc Berouti / Marketing Director
Biztree Inc.
555 Rene-Levesque Blvd. W., Suite 1500
Montreal, QC H2Z 1B1
Canada
1.866.999.3311 ext. 221
514.768.3311 ext. 221
http://www.biztree.com
###