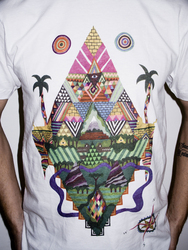 Stockholm, Sweden (PRWEB) March 30, 2009
News + graphic T-shirt = T-post, the world's first wearable magazine. The story is on the inside with artist interpretation on the front, making the t-shirt magazine an all-around conversation piece.
"What's fascinating about T-post is the interaction it creates. Nobody asks you about the article you just read in the bathroom. But if you're wearing an issue of T-post, people tend to ask what it's about. The next thing you know, you're talking about the ethical treatment of robots or some bank robbers in Brazil who got away with 45 million bucks. You're forming your own opinion, getting someone else to think about the topic, and it just keeps going from there," said Peter Lundgren Editor-in-Chief at T-Post.
Upcoming issues of T-post magazine will feature the following:
"The New Explorer"
The explorer of today is not called Magellan, Columbus or Amundsen. Today's explorer of the world is a web browser.
Until a few months ago this was merely a lame IT joke. Then a scientist from Kew, England, discovered an unknown forest in the mountainous north of Mozambique. Nothing unusual in that, but the odd thing is that the forest, described by the scientists as a "lost Eden", was first spotted with the help of Google Earth. (For more information visit http://www.t-post.se).
Design By Dan Has Potential
Daniel Brereton is a young British gentleman who likes to draw and make films. Sometimes he combines the two. His idea of a lost Eden includes a pyramid gateway, sphinxes, a jungle river, palm trees and crocodiles. Although we're not one hundred percent sure that this is a correct description of the surrounding vegetation at mount Mabu, we like it a lot. Daniel has a site called danhaspotential.com
About T-post:
The idea was born back in 2004 as a fun project amongst friends. We started out by making the first issue in just 5 copies. But the word began to spread and the rest, as they say, is history. Today T-post magazine is distributed to over 50 countries. A subscription costs 26 EUR per T-shirt, and can be delivered anywhere in the world. All shipping costs are included in that price. For more information please visit T-post.se or/and contact us at peter (at) t-post (dot) se.
# # #