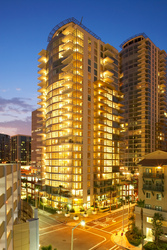 , said David Parsky, Director, CPI.
Long Beach, CA (PRWEB) March 26, 2009
Citi Property Investors (CPI) the real estate investment center of Citi Alternative Investments will hold a real estate auction for West Ocean Two, the new premier condominium development in Long Beach, CA. This high profile and beautiful addition to the Long Beach skyline offers luxury living, coastal and city views and easy access to the 710 and 405 freeways. The high-rise residential auction will enable buyers to establish today's market value for homes at West Ocean Two, the tower closest to the ocean of the West Ocean development. This real estate auction sale and potential Buyer application of the new 2009 State and Federal Tax credits creates an exceptional buying opportunity for high-end coastal Southern California new residences. Potential Buyers should contact their tax professionals for details of this opportunity to apply Federal and State credits.
We've looked at the California real estate landscape and are confident that executing a Value-Oriented auction is the best method to market West Ocean Two to potential buyers", said David Parsky, Director, CPI. "We are proud to be involved with a residential waterfront development of such high quality and that offers so very many luxury amenities."
The auction information center and model residences for the 39 one, two and three bedroom residences available at auction are open daily from:

10:00 a.m. to 7:00 p.m. at 411 West Seaside Way in Long Beach
The West Ocean Two auction will be conducted by Accelerated Marketing Partners(AMP) and will take place at 3:00p.m. on Sunday April 26, 2009 at the Westin Long Beach, located at 333 E. Ocean Blvd. Long Beach, CA, 90802
West Ocean Two redefines the Long Beach skyline, with spectacular residences boasting picturesque sunset and city light views. The minimum selling prices reflect slashes in prices of up to 60%. The eleven one-bedroom residences available at auction are approximately 893 sq.ft. and have a minimum selling price from $195,000. One bedroom residences had original selling prices up to $692,800.
The 16 two bedroom residences available at the West Ocean Two auction approximately 1,040 sq. ft. to 1,323 sq. ft. plans. These two bedroom homes had original prices of up to $1,032,000. Minimum selling prices for the auction from $295,000.
There are eleven 2 bedroom/2 bath plus tech room plans with approximately 1,397 sq. ft. and original asking prices of up to $1,095,000. These residences are offered at the auction from $345,000.
The 3 bedroom/2 bath home with stunning views and approximately 1,651 sq. ft., original asking price of $1,415.000 will be offered for sale at auction with a minimum selling price of just $625,000.
"This is a tremendous opportunity for potential buyers of the new iconic oceanfront tower", said Ken Stevens, co-founder and west coast chief executive officer of AMP. "The current real estate market has created an unprecedented opportunity for buyers, who now have this chance to set their own prices for high-end oceanfront homes at West Ocean Two. This is an exceptional auction sales event for the Southern California real estate market."
Residents will enjoy luxurious amenities, including an exercise studio with state of the art equipment, beautiful pool, spa, media room and game room. West Ocean Two also provides 24 our concierge, guest suite, conference meeting area, an outdoor entertainment center with private barbeque area and wine storage is available for the wine enthusiast.
Long Beach is an urban coastal city bustling with shops, boutiques, local markets and chic restaurants. Residents at West Ocean Two will be very near recreational activities, such as the Aquarium of the Pacific, the Pike, Pine Avenue Pier and Shoreline Village. Cultural and art events occur often, with easy access to the Long Beach Playhouse, Symphony Orchestra, the California Repertory company and so much more. The Long Beach, LAX and Orange County airports are nearby. West Ocean Two is the prefect locale for Southern California, with downtown LA, the Westside and Orange County all just a short drive away.
For more information on the West Ocean Two auction, please call 1-888-938-8880 or visit, http://www.auctionlongbeach.com
Accelerated Marketing Partners is a full service residential real estate firm with offices in Northern and Southern California and Boston, MA; specializing in the development and implementation of accelerated marketing and sales programs.
For more information, please visit http://www.acceleratedmp.com
Accelerated Marketing Partners Contact:
Deborah Stevens
925.362.1442
dstevens(at)acceleratedmp.com
###