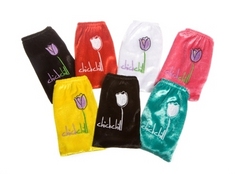 Discrete relief from the heat - in a fashionable way
Dallas, Texas (PRWEB) March 26, 2009
Relief from the heat is what the Dallas, TX stay at home moms, and sisters, Caroline Norris and Katharine Godson were looking for. Unable to find anything appropriate they decided to make one for themselves. The result; a reusable freezer gel-pack wrapped in a colorful velour pouch with an embroidered ChickChill logo on the front.
http://www.mumsatplay.com/chickchill.php
"Discrete relief from the heat - in a fashionable way" says Katharine. "Guys will just put an ice tray on their neck. We wanted something a little more lady-like to cool down," adds Caroline.
Response has been incredible. Women have emailed both sisters praising their ChickChills and sharing with them their uses; at the gym, the pool, the beach, on a walk, at a ballgame, a cocktail party or girl's night. Other uses mentioned include: relief of muscle aches, fever, tired eyes, and hot flashes. "One mother even wrote to say that she puts a pink ChickChill in her daughters' lunch box" said Caroline.
Of the more than 20,000 gift items and accessory product lines represented in the Dallas Market Center showrooms ChickChill was selected by the Market as one of nine products to display at the Dallas Apparel & Accessories Market inside FashionCenterDallas. "I am so pleased for them" remarks Kimberly Vorse, KAM & Company owner. "This is an incredible achievement for them".
Measuring approximately 5" x ¾" x 3 ½" the pouch is washable with an elastic opening at one end. Just pop it in the freezer for a couple of hours and take ChickChill along with you. They're not only great for personal use but also a unique and practical gift.
ChickChills are currently available online at ChickChill.com and many boutiques and gift shops across the nation.
# # #