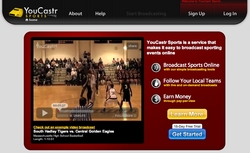 The Krafts have always been supportive of youth sports in New England, particularly football
Boston, MA (PRWEB) March 26, 2009
YouCastr, the sports broadcasting service for high schools and youth sports, announced its partnership with The Kraft Group, owners of the New England Patriots, today. Together, they will provide high schools throughout New England an opportunity broadcast their football games and other sports over the Internet.
The Kraft Group will be leveraging its website, http://www.newenglandfootball.com as a central locator and promoter of high school football video. YouCastr will provide their easy to use platform to schools to broadcast live, delayed and on-demand video to families, boosters, alumni and the general public. Also, YouCastr also provides schools and athletic programs an ability to earn money by charging their viewers and inserting advertising.
Each school's content will be available on both newenglandfootball.com, where every high school football team in New England has its own team information page, and the school's own website if it so chooses. Further, all the team information pages on newenglandfootball.com feed kiosks in The Hall at Patriot Place, the New England Patriots hall of fame and interactive museum. The kiosks are part of The Hall's "New England Football" exhibit, where visitors can find information not only on high school football, but also the complete history of football in the six-state region.
"The Krafts have always been supportive of youth sports in New England, particularly football," said New England Patriots publisher Fred Kirsch. "Hosting the MIAA Super Bowls at Gillette Stadium every December is just one part of that involvement. Creating newenglandfootball.com and the New England football exhibit at The Hall at Patriot Place was yet another step. Now, partnering with YouCastr takes what we can provide schools to a whole new level. With schools everywhere forced to tighten their financial belts, YouCastr's solution is a terrific opportunity for high schools throughout New England."
"YouCastr is delighted to be partnering with The Kraft Group to support broadcasting of high school sports across New England," said YouCastr Co-Founder Brad Johnson. "Together, we can help raise the profile of school's athletic programs, enable schools to earn money during these challenging times, provide a great way for family and alumni to watch their favorite teams and provide students an excellent educational opportunity in digital media."
There are already hundreds of high schools throughout the country using the YouCastr platform to broadcast sporting events over the Internet. YouCastr is in the process of signing up more high schools to broadcast spring sports to get them prepared for the fall football season. The process for schools is incredibly simple and once signed up, schools can leverage the YouCastr services for all their sports and school events.
About The Kraft Group
The Kraft Group is the holding company for the Kraft family's various businesses, which have concentrated interests in five specific areas: the distribution of forest products, paper and packaging manufacturing, sports and entertainment, real estate development and private equity investing. Together, the Rand-Whitney Group and International Forest Products conduct business in more than 80 countries annually and form one of the largest privately-owned paper packaging and distribution companies in the world. The Kraft Group's sports and entertainment division features Gillette Stadium, New England's premier concert and entertainment venue and home to the National Football League's three-time Super Bowl Champion New England Patriots and Major League Soccer's New England Revolution. The Kraft Group's real estate development team oversaw the construction of Gillette Stadium and Patriot Place, a 1.3 million square foot lifestyle and entertainment destination adjacent to Gillette Stadium. For more information, please visit http://www.thekraftgroup.com.
About YouCastr
YouCastr is a sports broadcasting service for schools, club teams, and tournaments that makes it easy to broadcast live, delayed, and on-demand video of sporting events. YouCastr enables students, athletes, family members, alumni, and fans to follow their favorite local sports over the Internet. YouCastr also gives schools and teams the ability to earn money by charging their viewers and inserting advertising, providing new revenue source for schools and athletic programs. For more information, visit http://www.youcastr.com.
# # #