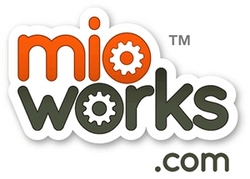 In a down economy people still need to buy services. The difference today is that buyers want even more value for their money
Portland, OR (PRWEB) March 25, 2009
Mio Partnerz LLC today introduced MioWorks.com, an on-demand web application that enables small businesses to centralize customer information & enhance online experiences. MioWorks.com makes possible interactive exchanges between the SMB and their customers increasing accessibility, improving customer satisfaction and streamlining business processes while reducing strain on existing staff and increasing overall productivity.
The MioWorks.com application enables the small business to treat customers in a more efficient manner by utilizing internet technologies to provide a one on one mechanism for communication. In a recession, SMB service providers such as lawyers, accountants, designers and consultants must focus on their best customers and drive business from within their existing customer base. MioWorks.com gives these providers the contact management tools needed to focus on improving relationships & experiences to create loyal customers.
MioWorks.com centralizes contact management & interactions to improve organization, encourage sharing and enable synchronization across both the business and the clients. For the business user, MioWorks.com organizes contact details, notes, tasks, to-do items, problems, questions as well as online file storage. For the client, MioWorks.com provides the convenience of 24 hour access to a private file library with the ability to grant approvals, ask questions and keep track of their history with the provider.
"In a down economy people still need to buy services. The difference today is that buyers want even more value for their money," says David Abramowski CEO of Mio Partnerz. "MioWorks.com enables SMB service providers to increase their value to customers by improving the overall business experience through online access and eliminating day to day hassles."
MioWorks.com is provided as software as a service (SaaS) with no hardware or software to buy, no consultants to hire and no computer guy needed to get started. MioWorks.com is an evolution of customer relationship management (CRM) that connects the company to their customers. This interactive applications enables the company and the client to mutually participate in an ongoing business conversation.
MioWorks.com utilizes Amazon Web Services for application processing and data storage taking advantage of cloud computing. MioWorks.com is available today in a complimentary public beta period with paid subscriptions targeted for April 2009. The basic subscription pricing is planned at $29 per month for a small business up to 100 application users. After the BETA period, MioWorks.com plans to offer a complimentary 30 day subscription to all new subscribers for evaluation purposes.
About Mio Partnerz LLC:
Mio Partnerz is a boutique software development firm specializing in web applications & cloud infrastructure for small and medium sized businesses. MioWorks.com is the inaugural software as a service solution offering from Mio Partnerz. More information about Mio Partnerz can be found on the website MioWorks.com.
###