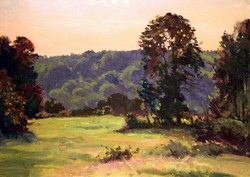 It is a once in a lifetime opportunity to acquire paintings directly from an artist estate. You could build an entire museum in one day with these paintings
Boston, MA (PRWEB) March 25, 2009
A Massachusetts artist left a great find behind for his family. Bernard Corey (1914-2000) left over 750 paintings that he painted during his lifetime in his estate which are going up for auction this Sunday, March 29.
Corey was a nationally recognized plein air painter who painted in the Impressionist style. He left behind gorgeous oil paintings depicting rural New England scenes of barns, cows and farmland especially around the Worcester County, Massachusetts area. "It's truly an amazing find and the quality and quantity of his art is unprecedented," says Paul Royka, the owner of Royka's Fine Art & Antiques.
Corey won many national awards during his lifetime as well as being a member of the Rockport Art Association and The Boston Guild of Artists. Over the years his works have brought thousands of dollars at auction. With starting bids as low as $200, this auction provides a rare opportunity to acquire truly exceptional works of art.
"It is a once in a lifetime opportunity to acquire paintings directly from an artist estate. You could build an entire museum in one day with these paintings," says Paul Royka, owner of Royka's which will be conducting the auction on Sunday, March 29th in Essex, MA.
There is a full online catalog of the paintings and online bidding available at http://www.ROYKAS.com and the auction will be conducted at Woodman's Essex Room in Essex, MA. Special select previews will be held Thursday, March 26, 3:30-5pm at The Boston Guild of Artists and Saturday, March 28 at The Tower Hills Botanic Garden, Boylston, MA from 11-2pm. More information available at http://www.ROYKAS.com.
About Royka's:
Royka's provides fine art and antique appraisal and auction services for clients throughout New England. Royka's has handled many large collections for private clients, museums and trust attorneys.
###