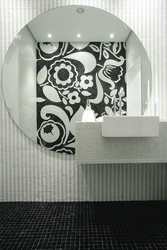 The launch of DistinctionInMosaics.com demonstrates Vidrotil's longstanding commitment to providing distinctive, premium quality products for the U.S. market
Washington, DC (PRWEB) March 26, 2009
Tile Trade, LLC, in partnership with Vidrotil, proudly announces the launch of their campaign DistinctionInMosaics.com, a new website showcasing the company's handcrafted collection of glass mosaic tiles. Since 1947, the company's dedicated craftsmen have been committed to the elegant art of mosaics. Most commonly used in artistic mosaic murals, and upscale indoor and outdoor design projects, Vidrotil lends sophistication to architectural projects, interior design concepts and landscaping applications.
First manufactured in Brazil by Italian entrepreneur Horacio Pellicciotti, Vidrotil's handcrafted glass mosaic tiles have consistently been a top choice among leading architects, designers and discerning consumers. The tiles' pure glass composition, vibrant colors and timeless appeal distinguish them from industry competitors. Additionally, their organic texture, subtle variations in shape, performance and versatility make Vidrotil glass mosaic tiles ideal for use in indoor and outdoor applications, including kitchen backsplashes, decorative countertops, living and dining room flooring and walls, and garden accents.
"The launch of DistinctionInMosaics.com demonstrates Vidrotil's longstanding commitment to providing distinctive, premium quality products for the U.S. market," said Fred Almeida, managing partner of Tile Trade, LLC, master distributor of Vidrotil in the United States. "We look forward to continuing to provide interior designers, architects and consumers with the same level of craftsmanship that they have come to expect from the Vidrotil brand."
Vidrotil's custom mosaic patterns and blends facilitate the marriage between artistic sensibility and functional design. Each single tile is selected and positioned even in the composition of the solid field sheets, employing the same technique used in artistic mosaic murals. Color compositions can be customized to best fit the client's desired look and feel, whether classic or contemporary. Additionally, with the assistance of Vidrotil dealers, design professionals' artistic vision is expertly translated from the initial concept to a work of art.
Vidrotil is equally committed to environmental responsibility, as it is to distinctive design and quality craftsmanship. The company has successfully implemented green practices in many areas of its operations, including the recycling of trimmed or unused glass in the manufacturing process.
For more information on the Vidrotil product line, retailers or dealer information, visit DistinctionInMosaics.com. Web visitors are also invited to register for the company's quarterly newsletter.
# # #