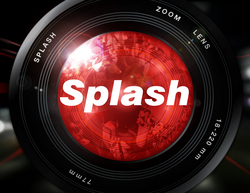 Los Angeles, CA (PRWEB) March 25, 2009
The first ever paparazzi-made show! Splash News, the world's leading celebrity news agency, is unveiling a brand new TV show with a twist and now the first look at the screener is available. Watch this edgy, gritty, never before seen fun look at Hollywood told through the eyes of the paparazzi.
The pilot can be viewed at: http://www.splashnewstv.com. Splash's 22-minute content-rich entertainment programme brings all the very latest news on celebrity from the street. Focusing on the biggest stories about the biggest stars, it's crammed with sensational new content every week.
The host of the show, Scott Potasnik, rubs shoulders with the photographers showing the viewer paparazzi as it really is. Waiting for a top celebrity on Rodeo Drive one week or on-set with Brad Pitt the next. Meet the team, see how the photographers operate and get a behind the scenes look at how the world of paparazzi works. Get to grips with your favourite stars in the biographies, catch up on celebrity with top news stories and see the celebs away from their publicists in the Celeb Cam segment.
It's packed with content and laden with cross-platform opportunities and interactive features. Splash is set to debut its new TV pilot at the forthcoming 2009 MIPTV in Cannes.
For more on this show visit: http://www.splashnewstv.com
Contacts:
London:
Jessica Townsend
44 (0) 207 078 8958
Los Angeles:
Paysley Ross
1-310-821-2666
tvsales (at) splashnews (dot) com
Notes to Editors:
About Splash:
Splash is the leading independent entertainment news and picture agency in America. Splash brings the hottest, most up-to-date Hollywood stories and photos to millions of people around the world through their favourite TV stations, websites newspapers, magazines and mobile devices.
Operating out of offices in London, Los Angeles, New York, Florida, Rome and Tokyo and using skills honed in the competitive British newspaper market, we take pride in being first with entertainment news.
Hollywood is the land of make believe, but if you want to know what is really happening, call Splash. We don't deal in gossip. We deal in fact. We have been credited with announcing some of the most memorable and controversial show biz stories to come out of Los Angeles in recent years. We cover the good, the bad and the very ugly.
Search Splash's vast library at: http://www.splashnews.com
Read Splash's blog at: http://www.splashnewsonline.com
###