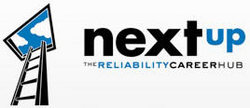 Our team has been working with companies in the reliability and predictive maintenance industry for ten years
Springfield, MA (PRWEB) March 26, 2009
Michael Vann, Managing Director of Next Up, LLC today unveiled their plans to launch http://www.NextUpCareers.com, a career information and job placement website dedicated exclusively to the career development of reliability engineering and predictive maintenance professionals.
"Our team has been working with companies in the reliability and predictive maintenance industry for ten years" Vann said, "and over that time we've seen professionals and employers struggle with finding information about career opportunities and the right employment fit. The depth and ease of our site will provide significant value for everyone who uses it, and regardless of the economic environment, we see a tremendous need for a dedicated and trusted career resource."
Unlike many career sites and job boards, NextUpCareers.com is being designed to serve both professionals and hiring companies. Whether they are actively seeking a new reliability engineering job or monitoring opportunities, the exciting new portal will be providing professionals with an impressive collection of features and functionality that cannot be found anywhere, including:

Highly intuitive career management tools that will allow professionals to build a profile that demonstrates their knowledge, skills and abilities while creating a path for advancement.
A confidential notification system that let's professionals know when new opportunities that fit their profile are available.
Fresh and relevant career focused content and advice from leading career advancement resources.
A comprehensive and interactive database of industry companies that allows for the sharing of relevant information and work experiences.
As to how NextUpCareers.com will serve companies, Vann stated "we recognize that many of the predictive maintenance job and career placement sites out there are designed to be a one size fits all solutions, which makes the hiring process extremely difficult. We understand that every company is different, so we are designing Next Up to make the hiring process easier". To do so, NextUpCareers.com will be providing companies with the following benefits:
The largest common format resume database of both active and passive candidates.
Highly intuitive and simple to use resume search and matching system.
A branded, interactive web page that lists your open jobs and communicates relevant employment information and the value of working at your company.
Customized service levels from basic job board placement to a fully automated candidate sourcing process.
A proven, industry specific placement process that ensures the right hire in less time and at a lower price point.
NextUpCareers.com is currently in the development phase, and is targeting May 1st for its initial launch. In the meantime, professionals can submit their resumes via the website and everyone can follow the development process by checking out their blog at http://www.NextUpCareers.com/blog.
About Next Up, LLC
NextUpCareers.com is the premiere resource solely focused on providing comprehensive career information, employment opportunities and job placement services to companies and professionals dedicated to the maintenance and reliability industry.
# # #