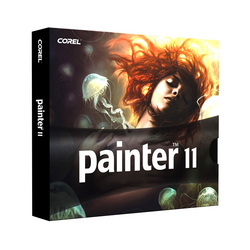 With the introduction of the Wacom Intuos4 pen tablet, artists can fully harness the power of Corel Painter 11 and push the boundaries of what's possible in art.
Ottawa, ON (PRWEB) March 27, 2009
Corel Corporation (NASDAQ: CREL; TSX: CRE) today announced its support for the new Wacom® Intuos®4, providing significant creative support and workflow advantages for artists using Corel® Painter™ 11. Together, Corel Painter 11 and the Wacom Intuos4 offer a heightened level of realism in digital art through unparalleled creative options, optimal control, and interactivity.
'With the Intuos4, we wanted to provide the most natural, responsive and consistent experience for our users,' said Don Varga, Senior Product Manager for Wacom. 'For artists using Corel Painter 11, the Intuos4 enables them to get the most out of the product's amazing new features, creating the most realistic digital art experience available.'
Corel Painter 11 is the ultimate art studio for anyone ready to expand their definition of creativity. With the most advanced digital painting and natural media tools available, artists can create the artwork they've always envisioned. Pressure-sensitive brushes, inventive drawing tools and customizable media let users create distinct digital and photographic art with every brush stroke.
'For many years, Corel and Wacom have worked together to provide artists with a realistic and creative digital experience,' said Rob MacDonald, Product Manager for Corel Painter. "With the introduction of the Wacom Intuos4 pen tablet, artists can fully harness the power of Corel Painter 11 and push the boundaries of what's possible in art."
The Intuos4 is available today and comes in four sizes to meet varying workflow and space requirements. More information can be found at http://www.wacom.com.
To learn more about Corel Painter 11 or to download a free, full-featured trial version, please visit http://www.corel.com/painter.
About Corel
Corel is one of the world's top software companies with more than100 million active users in over 75 countries. We develop software that helps people express their ideas and share their stories in more exciting, creative and persuasive ways. Through the years, we've built a reputation for delivering innovative, trusted products that are easy to learn and use, helping people achieve new levels of productivity. The industry has responded with hundreds of awards for software innovation, design and value.
Our award-winning product portfolio includes some of the world's most widely recognized and popular software brands, including CorelDRAW® Graphics Suite, Corel® Painter™, Corel DESIGNER® Technical Suite, Corel® Paint Shop Pro® Photo, VideoStudio®, WinDVD®, Corel® WordPerfect® Office and WinZip®. Our global headquarters are in Ottawa, Canada, with major offices in the United States, United Kingdom, Germany, China, Taiwan and Japan.
© 2009 Corel Corporation. All rights reserved. Corel, CorelDRAW, Corel DESIGNER, Paint Shop Pro, Painter, VideoStudio, WinDVD, WinZip, WordPerfect, and the Corel logo are trademarks or registered trademarks of Corel Corporation and/or its subsidiaries. All other product names and any registered and unregistered trademarks mentioned are used for identification purposes only and remain the exclusive property of their respective owners.
# # #