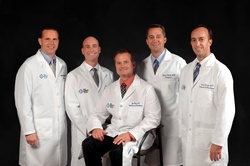 Sheffield Village, Ohio (PRWEB) March 26, 2009
The web site for Northeast Ohio's Center for Orthopedics (CFO) now offers a Fast Track that allows ER patients with a broken bone or injury to schedule a next-day appointment in the practice's Open Cast Room online--potentially saving them hours of wait time.
"Our Open Cast Room has one purpose: to treat patients as soon as possible when they have a broken bone or injury," says CFO's Daniel J. Zanotti, MD, a board-certified, fellowship-trained orthopedic surgeon specializing in sports medicine and arthroscopy--one of a team of five orthopedic surgeons. "But because patients are seen on a first-come, first-served basis, the wait times are often considerable."
With the CFO web site's new Fast Track, Open Cast Room patients can go to the front of the line by booking a next-day appointment online. "Although we will still see patients without an appointment, patients who schedule an appointment online will be given preference in the Open Cast Room," Dr. Zanotti explains.
The online Fast Track offers Open Cast Room appointments Monday through Friday from 8:30 a.m. to 3:00 p.m. After booking an appointment online, patients can also complete and submit their medical forms on the CFO web site--saving them even more time in the doctor's office.
"It was very easy," says Shelly Spieth of Elyria, Ohio, who recently booked a Fast Track appointment in the Open Cast Room when her son, Grant, injured his ankle in a soccer game. "I went home from the ER, got my son settled and rested, and I went right online," she says. "It took only a few minutes to make the appointment and fill out the forms on the web site. They even sent me a confirmation and copy of my completed forms.
"We got to the Open Cast Room when it opened at 8:30 a.m. and there was a line out the door," Spieth recalls. "There were over 30 patients checking in at the same time we were. I was so glad I made an appointment online! I checked us in and a few minutes later, they called us back. We were in and out and back home by 9:15. Otherwise, we would have been there for hours.
"It couldn't have worked out better," says Spieth. "With three kids, I appreciate anything that makes my life easier."
To book an appointment in the Center for Orthopedics' Open Cast Room, visit http://www.center4orthopedics.com/fast-track.
The Center for Orthopedics, part of EMH Regional Healthcare System, offers the most comprehensive bone and joint care in Cleveland's west side, western Cuyahoga County and Lorain County, Ohio. Complete orthopedic care is available from an expert team of five advanced-trained, board-certified orthopedic surgeons at offices in Sheffield Village, Oberlin and Westlake, Ohio. Call 440.329.2800 or visit http://www.center4orthopedics.com
###