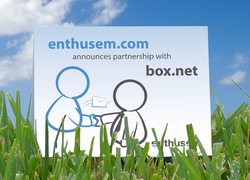 Tampa, FL (PRWEB) March 26, 2009
Tampa Florida -- Enthusem.com's new breakthrough web application for printed postal mailers is now available to more than 2 million Box.net users, instantly accessible from your Box.net account or anywhere on the web that you choose to display your Box files, such as on your Linkedin Profile page.
Simply login to your Box account and add Enthusem as a service and you will be able to send printed postal mail that same day using your online files.
Marc Fors, co-founder of Enthusem, says: "We were inspired to establish a partnership with Box because of their unique approach to online collaboration - it's all about sharing, usability and access - essentially giving users the power to do more with their data. Enthusem is just one of the newest services that makes Box so exciting. Now you can use your online files to create a printed postal mailer in under 30 seconds - a single piece going to a friend, a sales lead, a customer, or a series of mailers sent to an entire group - automatically printed and mailed for you by Enthusem. Being able to send high-quality mail from the web to one person at a time is novel, but what really makes enthusem relevant today, is that each mailer can have online attachments - just like an email - and when those attachments are viewed, you get an instant email alert. It's just like having your own personal response marketing system."
"Box.net is excited to provide Enthusem's custom printed cards to our business users via our Open Box platform. The ability to generate thank you notes, invitations and other tailored communications is a perfect addition to Box, and the thousands of sales and marketing professionals on Box will certainly embrace this new tool" said Karen Appleton, Box.net's VP of Business Development.
Steve Tingiris, Founder and CEO says, "Enthusem is uniquely positioned to instigate and aggregate print events across the web and the social media space. We have long believed that print is the original social media and is now being rediscovered by a whole new segment as an effective way to market. Enthusem has not only made it easy to create high quality mail in a few clicks, but through the online attachment and response feature, Enthusem has connected traditional printed postal mail to the online world of social media. We like to say that we have reinvented the greeting card - that Enthusem's features and functionality have breathed new life into print - a proven effective marketing method. We have an open API for the developer community and more partnerships are in the works that should transform and expand how print is accessed and produced in today's social media sector."
About Enthusem.com
Enthusem makes sending personalized PRINTED greeting cards as easy as sending an email. Even better, like an email, enthusem cards can include attachments. That's right; you can attach electronic files like videos, PDFs or web pages to printed greeting cards - and get email alerts when the files are viewed. If that's not enough, you can also use any image you want for the front of the card, you can write your own personalized message, you can buy and send cards one-at-a-time and you can try Enthusem for free.
About Box.net
Founded in 2005, Box.net (http://www.box.net) now serves more than 50,000 companies from small businesses to Fortune 1000 that look to Box for collaboration tools that simplify online content management, accelerate team productivity and connect employees with a familiar interface that anyone can use. Box.net is a privately held company headquartered in Palo Alto, CA, and is backed by venture capital firm Draper Fisher Jurvetson and U.S. Venture Partners.
###