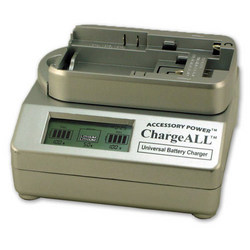 We don't call it the 'Charge All' for nothing
Westlake Village, CA (PRWEB) March 27, 2009
Perhaps it's not common to wonder if there is a better way to charge batteries. However, if one were to think about it, since it is necessary to carry around separate chargers to charge up AA and proprietary digital camera batteries, this makes for a lot of wasted space in traveling bags. The new Accessory Power "Charge All" Universal Charger is a revolutionary product that maximizes the space savings into an easily portable product that does everything a consumer ever wanted their battery charger to do.
So what exactly is so different about the "Charge All" Universal Charger? There are a couple of chargers that describe themselves as universal, but the "Charge All" is the first product to feature simultaneous charging of AA or AAA batteries and a digital camera battery, and the first to offer a status display which monitors charging progress and detects when a battery has gone bad.
"I am really proud of the way the Charge All has turned out," said Robert Breines, CEO of Accessory Power. "I believe this is a revolutionary, high-tech product that will really simplify the needs of professional digital photographers. And it is still affordable for environmentally-conscious consumers who have both camera battery and AA charging needs and don't want to carry around separate chargers."
The Accessory Power Universal Charger is a powerhouse built into a deceivingly simple design. Just plug in some AA's and then lay the appropriate digital camera plate on top of the device and just watch it go. Within a few hours the "Charge All" will calculate the perfect charge to deliver to your batteries; an LCD status display features up to the moment, precise measurements on each battery concerning charging progress.
Once the LCD screen says 100 percent, just throw the batteries in a bag and go take some pictures! Or just leave them in the charger for a few days, since the auto-charging cutoff features intuitively know when to stop delivering a charge for maximum battery performance.
"We don't call it the 'Charge All' for nothing," said Breines, "there are over 100 compatible models. You can rest assured that almost any possible combination of popular brand name batteries will function."
Those wondering what the exact models are, and if their particular camera battery will function, should check out the manufacturer's web site at AccessoryPower.com and look for the listing of New Products. Also, the "Charge All" is "universal" in the sense that it is world ready with a flexible volt capacity of 100-240 volts and comes with an AC and DC cord so it is no problem to charge batteries wherever they are needed.
Accessory Power proudly serves the electronic and electronic accessory needs of customers all over the world. Accessory Power staff continues to take pride in minding the needs of each individual customer, personally reviewing every order, shipping on-time, and providing amazing post-sale support. Buy with confidence knowing that there's a proud and knowledgeable staff on the other end in China, Hong Kong and in the USA working to ensure quality product and satisfaction.
###