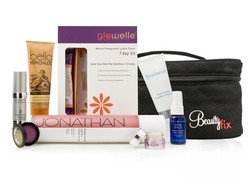 El Segundo, CA (PRWEB) March 26, 2009
Following the success of its winter launch, Beautyfix is proud to debut Fix No. 2. The members-only program has become the latest innovation to integrate beauty influencers, consumers and brands through the web. Featuring a seasonal sampling program, social network and tips straight from acclaimed experts, this exclusive beauty community caters to beauty enthusiasts who love discovering the best in quality products and also recognize great value.
Panelists selected products from the following brands for Beautyfix No. 2: Lisa Hoffman Beauty, Jonathan Product, 3LAB, Exuviance, Kerstin Florian, Bella Bronze, Glowelle and Global Goddess Beauty.
Beautyfix is the solution for beauty buffs looking for the next best product to add to their arsenal. By combining three key elements to gaining consumer attention, (advisory panel, sampling & word-of-mouth) Beautyfix is the destination for both beauty devotees and brands. Beautyfix opens the door to the elite world of beauty and makes it attainable for all beauty lovers. For a seasonal fee of $49.99, the world of Beautyfix opens up.
Advisory Panel/ The Tastemakers
The Beautyfix Advisory Panel consists of 30 makeup & hair professionals, estheticians, medical professionals, select beauty bloggers, influencers and experts from the beauty industry. Brands submit products to the panel for consideration. Each season, the Beautyfix Advisory Panel reveals their "fix" - 7 to 10 agreed upon "best of" products - and all members receive it delivered to their door. Among panelists are Rita Hazan (celebrity hair colorist), Sean James (celebrity hair stylist), Rosie Johnston (celebrity makeup artist), Tia Williams (beauty editor and blogger), Babak Azizzadeh (facial plastic surgeon) and Dr. Jody Levine (dermatologist).
Social Network/ Word-of-mouth
Members are welcomed to start a personal profile page, join beauty forums, redeem a $25 gift card toward featured products, and receive member-only exclusive offers in addition to their seasonal fix. Beautyfix will be supported by fun and informative video segments and helpful web-based editorials. Beauty lovers will come together to share their favorite products and unique tips while communicating with other addicts.
About Beautyfix
Beautyfix is a sampling program designed to integrate beauty influencers, consumers and brands through the web. Featuring a seasonal fix of 7-10 beauty products, members have access to a vast social network featuring beauty related forums, tips from acclaimed experts and exclusive instructional videos. Beautyfix is a "smart sampling" program designed to inspire beauty lovers with the best of the beauty world. http://www.beautyfix.com
###