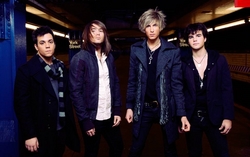 Push Play was delighted to donate their performance in New York City to the charity One Is Greater Than None as it was founded by teenagers who themselves had a purpose
New York, New York (PRWEB) March 26, 2009
Teen band sensation, Push Play rocked the house with a selection of their newest songs this past Saturday to a sold out crowd of young teen agers who couldn't seem to get enough of Push Play's unique youthful sound. The popular band headlined a concert charity event at the legendary Hammerstein Ballroom in the heart of New York City on March 20th. The concert raised thousands of dollars for the well established and highly publicized charity foundation, One Is Greater Than None. The evening was filled with performances by a few bands Push Play being the last to go on. It proved challenging for the devoted Push Play fans to quell their excitement for the band as was evidenced when Push Play finished and tried to get off stage at the end of their planned set. Push Play had to stay on stage and perform a few encores before the fans finally calmed down from their adrenal rush to allow the band members to leave the stage.
"It's always an exhilarating experience for me and the other band members to perform on stage and to have people connect with our live music," said lead singer of Push Play, CJ Baran. "Charity performances for us are particularly meaningful as we have always stayed very close to our vision for the band which is to reach out to others who may be in need and help them to feel good about themselves and the world we live in today," Baran went on to say.
As part of their charitable campaign, members of the band initiated the Push Play for Purpose campaign which has received national recognition for its dedication to helping those in need. The four teenage band members that make up Push Play (CJ Baran, Steve Scarola, Nick DeTurris and Derek Ries) have passion for their charity endeavors which they consistently contribute to through Push Play for Purpose. Charities that have benefited from their organization include the Leukemia and Lymphoma Foundation, Juvenile Diabetes Foundation, Habitat for Humanity, Invisible Children and the Susan G. Koman Foundation among others. Push Play was particularly happy to be part of One Is Greater Than None which was created by eight teen girls whose goal was to inspire individuals to believe that any contribution, no matter how small has value. The teen led foundation has gone on to raise much needed funds and help for impoverished children in Africa.
"Push Play was delighted to donate their performance in New York City to the charity One Is Greater Than None as it was founded by teenagers who themselves had a purpose," said one of Push Play's managers, Sue Baran. "The Push Play for Purpose campaign is happy that the evening brought in over $68,000 to a worthy charity and that the band is making a difference in people's lives and entertaining them at the same time."
Teen magazines were there covering the red carpet event at the Hammerstein Ballroom making sure they captured the excitement for their readers. Look for reviews, articles and mentions in J-14, Elle Girl, Cosmo Girl, TMZ, Teen, Alloy, OK! Magazine, Paper Magazine and even Reader's Digest.
As what is becoming typical of Push Play, CJ Baran and other members of the band decided to throw a party the next day in Manhattan for the organizers of the Hammerstein Ballroom event, the other performers from the evening and of course for the fans. Other bands that performed that evening included Saving Jane, Tamarama (with Jay from MTV's The City), Graham Colton and WOW!. Fans were excited to have the opportunity to meet members of Push Play and hang out with them for a bit.
Push Play is currently putting their final touches together on their highly anticipated second album FOUND which will be released this summer. For more information on the band you can visit them at http://www.pushplaysite.com or http://www.myspace.com/pushplayrox
or contact Tas Steiner Public Relations at 323.857.6700
###