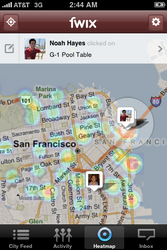 We've built an application that not only tells people what's happening in their city at the moment, but shows them where all the activity is taking place
San Francisco, CA (PRWEB) March 27, 2009
Fwix, the world's leading local activity platform designed to find and deliver only the most relevant and interesting city-specific information produced by newspapers, bloggers, and social media sites, has just released its first Apple iPhone application.
In addition to bringing selective high quality local content to Apple's iPhone, Fwix has used a heat density map -- the first Heat Map on the iPhone -- that depicts up-to-the-minute city activity.
"We've built an application that not only tells people what's happening in their city at the moment, but shows them where all the activity is taking place," said Fwix Founder & CEO Darian Shirazi.
For now, the Heat Map is available only to iPhone users. And Fwix's technology also allows iPhone users to locate their friends using a mapping system within the Fwix application.
More Than Just A 'News Feed'
Fwix's technology (which uses heuristic and semantic analysis) filters through thousands of web sources to capture a city's most valuable news, reviews, photos, videos, blog posts, and status updates. The result is a uniquely relevant and hourly-updated 'City Feed' for residents.
Fwix users, both on the web and on the iPhone, can also take advantage of several social features:
-Fwix users can track which articles their friends and neighbors are looking at
-Fwix users can comment publically on articles
-Fwix users can message friends privately to discuss articles or to keep in touch
-Fwix users can discover like-minded neighbors through discussion and the sharing of articles
-Fwix users can always view activity in other cities, with more locations being added every day.
About Fwix
Founded in October 2008, Fwix integrates with mobile applications, news providers, and social media applications to provide valuable local information to users across the United States. To experience Fwix, visit: http://fwix.com or download the iPhone app from the iTunes App Store.
# # #