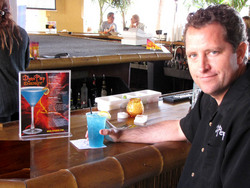 It's so much better than red bull and vodka! Its 10 X the power and Lasts for Hours!
Boca Raton, Florida (PRWEB) March 27, 2009
DynaPep™ announced today they will be launching their Nightclub campaign in Miami and Fort Lauderdale during the week of the Winter Music Conference.
DynaPep™ "The World's First Supercharged Energy Micro-shot available nationally, will now be available at nightclubs starting this week at Discotekka on 2nd Avenue in Miami and at the newly created DynaPep Patio Bar at Off The Hookah at the Riverfront in Las Olas.
With the Winter Music Conference in town this week, DynaPep™ will be hosting several events for conference attendees as well as the general public. They will be filming on Thursday night, March 26th at 10pm at Discotekka and Friday night, March 27th at 10pm at the Launch party at Off The Hookah. DynaPep™ will be offering new drink recipes using the Micro-shot. "It's so much better than red bull and vodka! Its 10 X the power and Lasts for Hours!" says Jeremy Crowell of Brandtrendz Media who is producing and filming the events.
DynaPep™ has made BrightSteps Forward their corporate charity. BrightSteps Forward, Inc. is a nonprofit organization that provides funding for intensive pediatric therapy to financially disadvantaged children with neurological disorders such as cerebral palsy. A donation will be made to them at the event. On hand to support the cause will be NFL Great Sam Madison. Madison began his NFL career with the Miami Dolphins then earned his Super Bowl ring with the New York Giants.
The DynaPep™ 2009 marketing campaign includes UFC World Champion Rashad Evans as a spokesman and MMA champ Paul Buentello (The Headhunter). Other initiatives include national radio and television campaigns. Event marketing includes NASCAR, The Academy Awards, BMX Teams and much more. Check http://www.dynapep.com for details.
"Our newest nightclub campaign is going to be a hit across the country! It's a perfect match for the power of DynaPep™!" said Lisa Krinsky, C.E.O. and co-founder.
Media Inquiries: Douglas Friedman 973 985-1050 or doug (at) dynapep.com
###