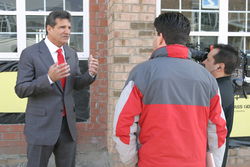 Jericho, NY (PRWEB) March 27, 2009
New York based builder and developer Michael Dubb, founder and principal of The Beechwood Organization was interviewed at Harbour Pointe at Shorehaven in the Bronx about the New York Real Estate Market. He commented that he has absolutely started to see the trend of more homes being sold and is "cautiously optimistic".
The amount of unsold new homes is in fact the lowest since June 2002. Due to the bailout along with the federal tax credit, banks have been able to offer interests rates of 5% and below. This is prompting customers to take advantage of the opportunity and enabling developers like Michael Dubb to increase construction helping to embark on what many hope will be the path to recovery. (To view video please click http://www.cbsnews.com/video/watch/?id=4893524n)
About The Beechwood Organization:
The Beechwood Organization is one of the largest developers of residential housing in New York. Over the past two decades, Beechwood has developed over 55 communities. The Beechwood Organization is currently developing Meadowbrook Pointe, a 720-unit active adult community complete with a 25,000 square foot clubhouse on the former site of the Roosevelt Raceway, as well as unique riverfront community at Harbour Pointe at Shorehaven in the Bronx. Additionally, Beechwood has partnered with the Benjamin Companies to develop an award winning, smart-growth master planned community in the Rockaways, Arverne By the Sea. When complete, this mixed-use community will have approximately 2,300 homes and be the largest revitalization project in the Northeast.
###