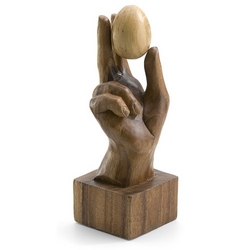 Ithaca, NY (PRWEB) March 28, 2009
A wooden sculpture that Barack Obama obtained on a 2006 visit to his ancestral Kenya may hold the key to his view of the Presidency. In African tribal tradition, a hand holding an egg symbolizes the fragility of chiefly power. According to an ancient proverb, power is like an egg; if it's held too tightly, it breaks, and if it's held too loosely, it will slip from grasp. Today, retailer History Company announces that it will offer reproductions of the President's keepsake, called the "Paradox of Power." The hand-hewn, solid wood figurine is crafted to the size of a human hand; it stands 10-inches high and weighs 1 1/2-pounds. It is offered for $100 at http://www.historycompany.com.
"Sculpture in wood is customary in African villages," explains Michael Turback, spokesman for History Company. "Although no two pieces are ever exactly the same, as the carver has to carve each piece according to the tree, the time-honored 'Paradox of Power' is remarkable in its symbolism."
The "hand" is carved from the hardwood of the Monkey Pod tree, with interlocked, wavy grain and colors that range from medium tan to dark brown; the "egg" is lathe-turned from the hardwood of the Coffea Arabica tree, a species that produces the majority of coffee consumed in the world.
###