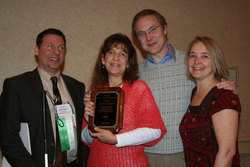 Not only was I disabled, but our neighbors had a child with developmental disabilities while I was growing up, and the mother was a teacher of children who were blind and deaf
(Vocus) March 27, 2009
Winnetka, IL - Dawn Turco, senior vice president of Educational Operations for The Hadley School for the Blind, is the winner of the 2009 Excellence in Rehabilitation Award from the Illinois Chapter of the Association for Education and Rehabilitation of the Blind and Visually Impaired (AER). The award is given annually for outstanding work and dedication to promote, develop and improve the lives of individuals who are blind or visually impaired.
Turco, who has been with Hadley for 15 years, oversees the school's strategic initiatives, accreditation process and program development, including the design and delivery of approximately 100 distance education courses.
"This is the first award of this type I have received during my career," says Turco. "Having served on the AER Nominating Committee in the past, I know how challenging a decision this is because the quality of candidates is tremendous. I was especially touched by all the letters of support from those who nominated me. It reminds me why I undertook this work in the first place 30 years ago."
Born with a congenital retinal condition that resulted in low vision, Turco's own disability was the impetus for her going into the rehabilitation field. "Not only was I disabled, but our neighbors had a child with developmental disabilities while I was growing up, and the mother was a teacher of children who were blind and deaf," says Turco. "I spent a lot of time watching her and learning about her career. By the age of 10, I knew what I wanted to do with my life."
Turco began her career in 1977 at the Missouri School for the Blind as a teacher working with students who are visually impaired and have multiple disabilities. After receiving her Certificate of Advanced Educational Specialization in Education Supervision and Administration from Boston College, she returned to the school as its principal for seven years and also served as interim superintendent. Turco then became the American Foundation for the Blind's Midwest Regional Educational Consultant. Based in Chicago, she held the position until joining Hadley in 1993.
Turco has been a member of AER since 1984. She was instrumental in forming the organization's Missouri Chapter, served as its president from 1984-1986 and co-chaired the North Central Regional Conference in St. Louis in 1987. Turco also has been very active in the Illinois School for the Visually Impaired, where she served on the advisory board, and the Illinois Vision Leadership Council, of which she was a member for many years. She is an officer for the Discovery Low Vision Conference, responsible for program planning, and has played a key role in the creation of the Families Connecting with Families Conference. Turco earned her B.S. in Special Education from Syracuse University and her M.A. in Special Education from Columbia University.
Looking back on her education and career, she notes that there is still a misperception about low vision: people don't understand the condition and are often confused when she asks for help in reading a menu board or comments that subtitles are moving too fast across the movie screen. "They can grasp what it means to be blind, but the low vision thing throws them," adds Turco, who has magnifiers all over her house and keeps one in her purse at all times. (She uses a monocular telescope for theater, concerts and other large events.)
Poking fun at herself, Turco, who is also color blind, shares a story about some of the challenges she has faced with low vision. "In the 70s, we had a Chihuahua named Taco that blended in with our avocado green shag rug. My younger brother has low vision too, and so we used to accidentally step on him. Boy, did he learn to move quick!" Today, Turco and her husband have a high-contrast, two-toned Cavalier King Charles Spaniel. "Now I don't have to worry about making the same mistake again!"
As her work at Hadley continues to evolve, Turco loves the fact that she is never bored. Impressed by the changes the school has undergone over the years to meet its mission of providing lifelong distance education to its students, she is very proud of the impact she has had during her tenure.
"It's really quite amazing to see Hadley's transformation and the incredible changes that have taken place in the field. New technology, in particular, has not only revolutionized the way we deliver programs and courses, but it has helped level the playing field for those with disabilities."
She adds that the development of access technologies such as screen readers and new mobile text-to-speech devices has completely changed the way we communicate with those who are blind or visually impaired. "Today, there is much more immediate access to information, education and career opportunities. That's a very good thing, especially since there is still a lot more work to be done."
The Hadley School for the Blind is the single largest worldwide distance educator of blind and visually impaired people. Since its founding by William Hadley and Dr. E.V.L. Brown in 1920, all of Hadley's distance education courses have been provided free of charge to blind and visually impaired students and their families. Today, the school serves more than 10,000 students annually in all 50 states and 110 countries. In January 2008, Hadley launched a School for Professional Studies to meet the needs of professionals and paraprofessionals actively working with the blind and visually impaired. Hadley relies on contributions from individuals, foundations and corporations to fund its programs. For more information, visit: http://www.hadley.edu
###