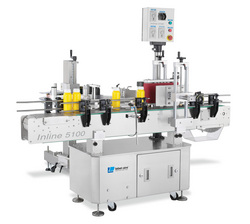 Fullerton, CA (PRWEB) March 30, 2009
Label-Aire, the innovative company that first brought to the packaging industry 40 years ago the patented "air-blow" concept for applying pressure-sensitive labels, is at it again with its new Inline Series 5100 labeling system. This newly designed stainless steel, cabinet-based system offers advanced features to make labeling faster, easier, more affordable and more profitable.
The Inline Series 5100 has a smooth-running Variable Frequency Drive (VFD) conveyor which improves label placement accuracy and it is designed for reliable full- and partial-wrap labeling at medium- to high-speeds, high-volume, multi-shift operations.
For more information go to http://www.label-aire.com/products/5100.cfm
Also visit the company's Web site at http://www.label-aire.com to view other labeling options and equipment. The site also offers custom systems, accessories, RFID solutions, sleeving equipment, technical information, a video library, and a unit conversion calculator for changing measurements to various units used by differing countries.
About Label-Aire:
Over 40 years ago, Label-Aire introduced a revolutionary new method for applying pressure-sensitive labels. The patented "air-blow" concept provided the packaging industry with a preferred method of label application which eliminates the need for additional product handling. This pioneering technique has gained complete acceptance and contributed to the widespread growth of pressure-sensitive labels in existing and new markets, worldwide.
Label-Aire's tradition of providing the easiest and most effective labeling solutions carries on today. No matter what the application, Label-Aire has the expertise to get the job done right - the first time. With a full line of quality pressure-sensitive labeling machinery, the company is able to provide the industry's broadest range of labeling solutions - including primary applicators, print & apply applicators, inline and rotary labeling systems, and RFID labeling solutions.
Label-Aire's ultra-modern facility (located in Fullerton, CA) houses a professional, hard-working sales & marketing staff, dependable customer representatives, and a highly-skilled workforce of technicians and engineers using the most sophisticated and technically advanced equipment. Its dedicated employees design and manufacture the most reliable and innovative pressure-sensitive labeling machinery in the world.
Contact:
William Claproth
714 449-5108
###