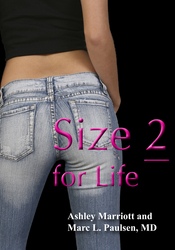 Newport Beach, CA (PRWEB) March 30, 2009
Try this: Take your right hand and encircle your left wrist joint. This will give an quick approximation of your frame size. Now, here is what jeans size authors Ashley Marriott and Marc L. Paulsen, MD feel that women can realistically achieve with their new Size 2 plan:
If your middle finger overlaps your thumb, you can be a healthy Size 2
If your middle finger touches your thumb, you can be a healthy Size 4
If your middle finger doesn't reach your thumb, you can be a healthy Size 6
Sizes 4 and 6, as calculated above, are what the authors refer to as frame-adjusted size 2's. Your weight will be in the healthy range for women of your frame size but you'll look just as awesome as any (other) size 2.
Topics Include:

Popular Myths about size 2.
Why a frame-adjusted size is the best way to set your goal.
Why the "supercharged," interval training programs are the worst ways to go.
Size 2 after pregnancy? Yes you can.
How almost any woman can achieve a healthy, frame-adjusted size 2.
Included in the book are simple tests to gauge one's current status, a complete diet and exercise program as well as the 21-Day 2 for Life quick-start plan for rapid results. For those of us who 'occasionally' find ourselves a bit pressed for time there's also the unique Size 2 Express Core & Tone program for essential core strengthening and toning in less than 10 minutes a day.
The authors have appeared as guests on ABC, NBC, CBS, FOX and the CW networks and been reviewed in newspapers and magazines worldwide. For more information, contact Stance Publications at 949-612-8284 or marcpent (at) msn.com. http://www.stancepublications.com
Size 2 for Life is now available at Amazon and bookstores worldwide.
Price: $21.99 Pages: 222
ISBN: 978-0-9821047-4-3
Publisher: Stance Publications
Pub date: January 16, 2009
About the Authors
Ashley Marriott has been designing dance and fitness programs for more than 10 years. She is a featured spokeswoman, host and model on Exercise TV, FIT TV and numerous fitness DVDs. Ashley is certified by the National Academy of Sports Medicine and the Aerobics and Fitness Association of America.
Marc L. Paulsen, M.D. is a graduate of Stanford University Medical School and received his training at University of California, Irvine Medical Center. He is a member of the American Academy of Sports Medicine and a former Medical Director of the Exercise Science Lab at Orange Coast College in California.
###