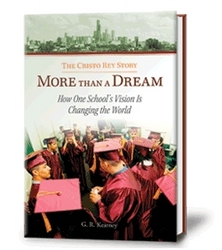 This was a story that needed to be told
(Vocus) March 27, 2009
Chicago, IL – G.R. Kearney's book, "More Than a Dream," now available nationwide, chronicles the improbable story of how—and why—Cristo Rey high school opened to serve underprivileged Hispanic children.
"This was a story that needed to be told," said Kearney, himself a former volunteer teacher for the school. "This school was—and is—unlike any other model of teaching that had previously existed. The book tells the individual success stories of young people from a poor, largely Hispanic community, who, in four years of high school, cross a divide that often takes several generations to bridge.
The model to fund the school—a corporate internship program that would generate revenue by sending a student to school four days a week and to a job one day a week—had never been tested before. Cristo Rey forged ahead and their students walked into entry-level jobs in Chicago companies and began funding 65 percent of the cost of their education.
Although the challenging beginnings of Cristo Rey Jesuit High School tested the faith of Chicago civic leaders and the resolve of the school's Jesuit sponsors, the school has become nationally recognized as a ground-breaking financial and educational model for urban education while making a real difference in kid's lives.
The school's success led the Bill and Melinda Gates Foundation to donate $15 million to replicate the Cristo Rey model around the country. In fall of 2007, 98 percent of Cristo Rey graduates enrolled in college.
More Than A Dream:
How One School's Vision Is Changing the World
The Cristo Rey Story by G. R. Kearney
Loyola Press
Hardcover $22.95
ISBN-13: 978-0-8294-2576-5
###