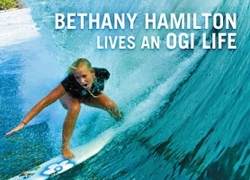 OGI offers more than a business, we offer a community committed to changing people's health and financial wellbeing
Salt Lake City, UT (PRWEB) March 27, 2009
As the only natural products company with a sole focus on the ocean, OceanGrown™ International is launching a fresh look and feel with a new web site - http://www.ogilife.com. The distinctive, easy to navigate site allows the young company to cement its lifestyle brand combining an active lifestyle with healthy, marine based supplements.
"The timing of the new site is ideal," stated company CEO Kerry Brown. "We are embarking on several aggressive strategies for 2009 - 2010. From international market expansion to innovative product offerings, the OGI opportunity is burgeoning through its grassroots distribution model."
The direct sales company continues to educate consumers on powerful marine bioactives such as Astaxanthin, Fucoxanthin, Krill Oil and Bladderwrack. The new site offers eye-catching, active imagery to connect a healthy lifestyle with ocean based natural products. As the popular carotenoid antioxidant Astaxanthin gains mainstream media attention, consumers can turn to http://www.ogilife.com for the latest research in the company's news section. Also, featured is company representative and Pro Surfer, Bethany Hamilton.
OGI is using the launch of its new web site as an introduction to several key initiatives over the next few months. From several new product launches, skincare formula advancement and market openings, OGI is offering an extensive home-based business opportunity for those looking for an additional source of income in the current economy.
"OGI offers more than a business, we offer a community committed to changing people's health and financial wellbeing," said Kerry Brown. "Our sales reps have found a home where they can build a business of longevity by bringing the beneficial properties of the ocean into a very receptive marketplace."
Working with award winning design agency Struck Creative, OGI will portray the ocean as a source of beauty, health and anti-aging ability. The OGI brand leaves a lasting impression of the ocean's invigorating power in the minds of health conscious consumers.
About OceanGrown™ International
OceanGrown™ International (OGI), is a new lifestyle company offering distinct health products based from the ocean's powerful offering of algae, oils (EPA/DHA), seaweed, kelp, moss, sea salts, calcium, coral and other actives. Through proper nutrition, complete skin care and a committed approach to weight management, OGI seeks to redefine the aging process. Fusing retail and direct sales business models, OGI representatives are encouraged to promote healthy activity, sustainability and preservation. For more information on OGI and its ocean derived products, please visit the new http://www.ogilife.com.
###