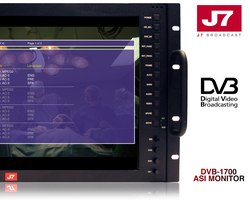 We previewed the product at CABSAT and got amazing feedback
Morgan Hill, California (PRWEB) March 30, 2009
J7Broadcast Inc. has today announced the DVB-1700(ASI), a 17" flat panel rackmount display that enables broadcast transmission engineers to monitor DVB-ASI signal compliance by simultaneously viewing program content and uncompressed stream metadata.
The DVB-1700(ASI) offers a cost-effective and space-efficient solution for broadcast studios and outside broadcast OB Trucks & OB Vans. Supporting Quality of Service (QoS) monitoring and fault-finding activities through its unique ability to decode and display compressed MPEG2 & MPEG4 streams, the DVB-1700(ASI) is suitable for use in broadcast, cable, head-end, transmission, contribution and satellite broadcast environments.
The rackmounted 6U display delivers high resolution 4:3 and 16:9 images, with comprehensive user button functions to select the desired data for analysis. A selectable On Screen Display (OSD) provides summary information as to the content of the ASI stream, the programs contained within the stream, and the audio and video content.
The DVB-1700(ASI) provides a re-clocked output to allow it to be daisy-chained into the ASI environment. The system includes built-in color bars for reference, an automatic function to continuously scan display all programs, and a large format OSD overlay of video and audio information summaries.
"We previewed the product at CABSAT and got amazing feedback," commented J7 Broadcast's CEO James Henry, "It seems that engineers have been having to 'make-do' with a jumble of different technologies. Finally we have been able to offer them a cost-effective solution integrated into one easy-to-use device."
"It's great to finally see useful DVB tools appearing," commented Andy McClelland, Product Marketing Manager for Transmission & Contribution EMEA for Harris Corporation, "The DVB-1700 just plugged straight into our customer's transmission system, the content and key metadata popping up instantaneously."
The J7Broadcast name is synonymous with high reliability solutions specialized for the performance needs of the broadcast market. All products are tested for the rigours of the transmission environment - both in studio and on the move. The technology is developed in-house, with local market support and maintenance in Asia, Europe and the Americas.
About the DVB-1700(ASI):
The DVB-1700(ASI) is a WXGA (1280x768) resolution 17" diagonal 6U rackmountable flat panel display system, displaying 4:3, 15:9 & 16:9 (AFD). It offers wide (176 degree) horizontal and vertical viewing angle, 16.7M colours and 400:1 contrast ratios. It supports D-TV (SD & HD formats) and SMPTE-310 with 1 x 75ohm BNC ASI Input connector and 1 x 75ohm BNC Loop-Through connector, DB9 RS232C serial port and 2 pin 12VDC Input locking connector.
The OSD overlays current active program display, number of programs in stream, ASI status, Video Format & Bit Rate, Close Caption information (in compliance with EIA608 & EIA708), Audio Format & Bit Rate. The illuminated push button menu controls offer ASI#1 & ASI#2 select, OSD on/off, Next Page, Next Program, Frame Market 4:3/16:9/15:9/Off. The unit is 26.6cm/10.5" (H), 48cm/18.9" (W) & 7.5cm/3" (D). Weighing 7K/15lbs. Operating 0-50 degrees. CE & UL Approved.
About J7Broadcast Inc.:
J7Broadcast Inc. is a technology-leading vendor in the DVB-ASI monitoring market, with offices in the USA, Europe and Asia. The company was one of the first to recognise the growing significance of the DVB-ASI standard, and the DVB-1700(ASI) is the first of a family of professional flat panel monitors designed for monitoring DVB-ASI transmissions.
With a focus on innovation, engineering and design, the J7Broadcast product range covers professional signal conversion tools and broadcast media playout devices. For more information, visit j7broadcast.com.
International Contacts
USA: Dusty Perryman (408)7827773 dustyperryman (at) j7broadcast.com
EU: Eladio Mendes +44 (0)207 631 2159 : emendes (at) j7broadcast.com
Asia: Michelle Fung +852 2861 3615 : michelle.fung (at) j7broadcast.com
Availability: The DVB-1700(ASI) is available now
J7Broadcast will be displaying the DVB-1700(ASI) at NAB, Las Vegas 20th-23rd April. Booth SL7427.
###