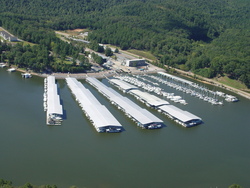 We're in the process of planning similar projects for several of our other marinas.
Luka, MS (PRWEB) March 30, 2009
Aqua Yacht Harbor, a Flagship Marina facility, located on the shores of popular Pickwick Lake in Luka, MS, has recently completely large-scale renovations on its C- and D-Docks, adding thoughtful amenities for visiting boaters and slipholders.
Chris Gaughan, President of the Indianapolis, IN-headquartered Floating Docks Manufacturing, the company contracted to complete the project, explained that the new docks were constructed of box-truss galvanized frames with encapsulated flotation materials.
Gaughan noted that C-Dock consists of sixteen spacious 22-foot-wide by 26-foot-long courtesy slips with treated lumber decking, and will provide convenient dock-and-dine access to the locally popular Café St. Clair Restaurant. The new D-Dock houses fifty-two open slips which can accommodate vessels from 40 to 60 feet in length, and features concrete decking, electric pedestals and dock boxes. The newly constructed D-Dock will afford marina customers state-of-the-art infrastructure and safe harbor for their boats. Aqua Yacht Harbor has relocated its yacht-sales facility, Jim Bennett Yacht Sales, to C-Dock.
John Stadler, President and CEO of Flagship Marinas, Inc., a privately held marina company that runs seven major marinas nationwide, and one of the country's three largest marina companies by size and number of slips, said he's excited about the facility updates at Aqua Yacht Harbor.
"We're constantly reviewing the specific needs at our marinas -- the evolving needs of our customer base -- and we've identified an increasing demand for larger slips within that marketplace." Asked whether Aqua Yacht Harbor's facelift is part of a larger initiative at Flagship, he added, "We're in the process of planning similar projects for several of our other marinas."
###