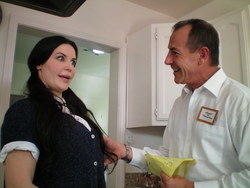 Los Angeles, CA (PRWEB) March 30, 2009
Michael Lohan, father of actresses Lindsay and Ali Lohan makes his personal acting debut on April 1, 2009 at the 9th annual Beverly Hills Film Festival in Beverly Hills, CA.
Michael Lohan appears in the series Wanna Be Me! directed by Dan Neira and produced by Jackie Watson. Along with guest star celebrities such as Lacey Chabert, Shalim Ortiz, Joe Estevez, Fernanda Romero, Patrick Kilpatrick, Carlos Ramirez and more, this show is a spoof on Hollywood and how to flourish in Tinsel Town and of course, how to become a star. As a comedy, nothing ever works out as planned, but who cares, since the laughs come so fast that you will want to re-visit each episode over and over again. Episodes of Wanna Be Me! can be viewed on April 22, 2009 at the website http://www.wannabeme.tv.
###