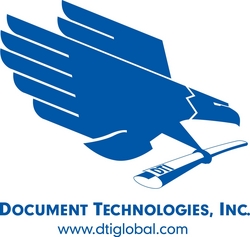 DTI is a recognized leader in e-discovery and hosting services, making them a solid choice as a Relativity Partner
Atlanta, GA (PRWEB) March 30, 2009
Document Technologies, Inc. (DTI), the nation's largest independent provider of legal support services and document outsourcing, announced today the addition of kCura's Relativity™ web-based document review and management solution to their unique collection of electronic discovery offerings. Relativity further strengthens DTI's best-of-breed technology for litigation support by providing a tool to support native review as well as image-based review.
DTI delivers superior processes, tools, and capacity for all aspects of electronic discovery, from forensic data acquisition to advanced file processing and data conversion to hosting. By partnering with companies like kCura, DTI offers clients a comprehensive suite of industry-leading technology, ensuring the right solution is employed for each project.
As the industry's most flexible review platform, Relativity delivers a customizable workflow component that allows documents to be managed from initial relevancy to issue-based review and production, including tools to organize documents when assembling the facts of the case. The Relativity platform is powerful yet easy to use, making it among the premier litigation tools of choice for the nation's leading law firms and making it a great fit within DTI's toolkit of electronic discovery solutions.
"DTI clients have a unique advantage, in that they have access to our collection of litigation technologies that is second to none. The addition of Relativity further strengthens that toolkit by providing clients yet another industry-leading technology solution," said John Davenport, Jr., Chief Executive Officer of Document Technologies, Inc. "The ability to choose the right tool for each unique case is one of the reasons clients depend on DTI for end-to-end litigation support."
"DTI is a recognized leader in e-discovery and hosting services, making them a solid choice as a Relativity Partner," said kCura Chief Executive Officer Andrew Sieja. "We look forward to working closely with DTI to bring Relativity to their clients."
DTI combines the technology of partners such as kCura with their own proprietary processes and project management to offer unmatched expertise to legal teams. In addition to their integrated e-discovery, hosting and traditional litigation support services, DTI has locations nationwide and is uniquely positioned to handle even the largest electronic discovery projects.
About DTI
Document Technologies, Inc. (DTI) is the nation's largest independent provider of legal support services and document outsourcing, servicing clients through offices in 22 markets across the U.S. DTI delivers end-to-end solutions for electronic discovery including forensics, data collection, processing and an array of hosting platforms to meet a variety of litigation support needs. The company also provides facilities management and traditional paper-based litigation support services. DTI services both top law firms and Fortune 500 clients. For more information, visit http://www.DTIGlobal.com.
About kCura
kCura is a Chicago-based software company that has been building powerful and easy-to-use applications for its clients since 2001. With a flexible workflow and native document viewing capabilities, Relativity connects clients, counsel, contract attorneys, experts, and outside vendors in one solution. kCura serves some of the nation's leading law firms by deploying Relativity in-house, as well as providing a hosted solution through an expanding network of partners. For more information, visit http://www.kcura.com.
Contact
For Document Technologies, Inc. (DTI):
Kevin Jacobs
Vice President of Technology Services
Ph: (770) 390-2700
For kCura:
Nick Robertson
Vice President of Sales
Ph: (312) 263-1177
# # #