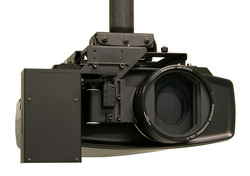 Because we are committed to being the industry's leading manufacturer of anamorphic lens systems for true Cinemascope® home projection, we have greatly expanded our line in 2009
Hauppauge, NY (PRWEB) March 30, 2009
Schneider Optics, the well known lens and professional filter manufacturer, now enables digital home theatre owners to achieve incredible full-screen Cinemascope® images without the difficulties associated with mounting anamorphic lenses in front of today's larger primary zoom lenses.
To make it fast and easy for installers to mount a Schneider Cine-Digitar Anamorphic 1.33x M Lens, the new Kino-Torsion M deployment system bearings and lens brackets are designed specifically to accommodate the increased lens size. As a result, a Schneider Cine-Digitar Anamorphic 1.33x M Lens simply screws into the Kino-Torsion M bracket without the need for adapter rings or additional hardware. The Kino-Torsion M has simple, direct and secure adjustments for displacement, pitch and roll to provide easy precision lens alignment. Automatic deployment is activated by a 12-volt trigger or contact closure.
Schneider supplies custom brackets for easy mounting of the Kino Torsion M deployment system to a wide range of projectors offered by Meridian, Pioneer, Planar, Viewsonic and JVC, and is actively developing solutions for some of today's newest and "hottest" projectors..
"Because we are committed to being the industry's leading manufacturer of anamorphic lens systems for true Cinemascope® home projection, we have greatly expanded our line in 2009," said Brian Ludvigsen, Schneider Optics Manager of Sales and Marketing, Home Cinema. "By adding the Schneider Cine-Digitar Anamorphic 1.33x M Lens and the Kino-Torsion M deployment system to the Schneider Cine-Digitar Anamorphic 1.33x Lens with its two deployment systems, home theater dealers and installers are better able to step up to - and meet the needs - of their high-end customers.
The medium-sized Cine-Digitar Anamorphic 1.33x M Lens enables shorter throw ratios and sharp images that fill screen height and width perfectly with Cinemascope® movies without letterboxing…the black bars that appear above and below the image when a 16:9 projector with a conventional lens projects a Cinemascope® movie. The Cine-Digitar Anamorphic 1.33x M Lens enables 16:9 aspect ratio digital projectors to create full-screen 2.35:1 (Cinemascope®) images on superwide format home theatre screens. With all of the projector's pixels being used, the black bars are eliminated and the resulting image fills the full height and width of the screen with images of superior brightness and maximum resolution.
The Schneider Cine-Digitar Anamorphic 1.33x M Lens is 9% larger on the entry side, and 25% larger on the exit side, compared to Schneider's industry leading standard 1.33x lens. As a result, it enables projectors having larger primary lenses to be placed two to four feet closer to the screen.
Schneider anamorphic lenses are considered to be the finest in the world by commercial theater owners everywhere. It is very likely that the Cinemascope® movies you have watched in your local theater were projected using a Schneider anamorphic lens. Now, any home theater owner can enjoy both simple deployment of their anamorphic lens and incredible full-screen images provided only by a Schneider anamorphic lens.
The Kino-Torsion M deployment device has an MSRP of $2,350. The Schneider Cine-Digitar Anamorphic 1.33x M Lens has an MSRP of $6,635. Both are available for immediate delivery.
World-Renowned Quality
Schneider Cine-Digitar lenses set a new standard for lens performance in Digital Cinema and large-venue, high-brightness digital projection applications. They are designed and tested to be brighter, sharper and more uniform than any other lenses for digital projection. All Schneider lenses for digital projection systems are built to the same high standards that have made Schneider lenses for film projection world-renowned for superior sharpness, highly-efficient light transmission, low distortion, and faithful color rendition.
About Schneider Optics
Schneider Optics is a leading manufacturer and distributor of photographic equipment. It provides the world's highest quality photographic optics, including Schneider professional cinema projection lenses, home cinema projection lenses, world-renowned Schneider filters for motion picture and television production, B+W filters, and a wide range of lenses and accessories for digital and film photography and video.
For more information contact Schneider Optics, Inc., 285 Oser Avenue, Hauppauge, New York, 11788, USA. TEL: 631 761-5000; FAX: 631 761-5090; projection@schneideroptics.com, or visit http://www.schneideroptics.com. To contact Brian Ludvigsen directly call +1 770 241 8810.
Cinemascope® is a registered trademark of 20th Century Fox Corporation.
###