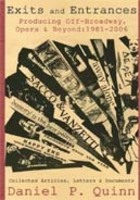 Nutley, NJ (PRWEB) March 29, 2009
ArtsPRunlimited presents: our Annual Benefit at Biricchino's Restaurant 260 W 29St, off 8th Ave from 6-9pm, NYC.
Contact ArtsPRunlimited for more information 973-661-1580. Benefit Tickets $250.00 in advance; $300.00 .Corporate underwriting grants are available as well, as advertising space on our season program.
Daniel P Quinn's Exits & Entrances (2008) and organized labor (2004) AuthorHouse will be on sale during Artists Nite. Cafe Trapezio has also hosted art shows with works by Damien Grey, Antonio Masini, Damien Grey, Joan DeNiscia, John J. Trause, Ralph Fassnella, Edward Cohan and Janet Goldner. Trapezio Cafe has been featured in The Nutley Sun, The New York Times listings, The Star-Ledger,Italian Tribune, The County News, Italian Voice and Bergen Record.
Venice Artists show continues @ Trapezio Cafe, Nutley, NJ.,07110, now until 9/30/10 only..
4th Friday Monthly Artists Nite: Cafe and discussion group for artists networking, chat, and planning projects @ Trapezio Cafe, Nutley, NJ. @ 8pm. 973-661-1580 . Il Trapezio Cafe/Gallery, 120 Franklin Av., (near Harrison St.), Nutley, NJ 07110. Free.
Mr. Quinn also directed the US premieres of master British playwright Edward Bond's Derek--staged at New York's Lincoln Center--and Stone. He co-produced the OBIE award-winning production of Diary of a Madman at the Irish Arts Center , where his work also included Graham Reid's Remembrance and Janet Noble's Away Alone. While at the Park Performing Arts Center, Mr. Quinn produced The Passion Play with Eric Hafen, which received national and international attention for the casting of an African American actor in the role of Jesus.
During his tenure as Artistic Director of The New Stagecraft Company, he received a proclamation from the Manhattan Borough President for the company's award-winning and challenging works and world premieres. In 2000, Mr. Quinn was invited by New York's Department of French Cultural Services to establish a cultural exchange between Lyons and its sister city, Paterson , New Jersey . Mr. Quinn was a guest of Aer Lingus at the Dublin Theatre Festival, Ireland . He was also invited by Claudio Abbado to be a directing assistant at the Teatro alla Scala in Milan , Italy . Mr. Quinn is a member of the Society of Stage Directors & Choreographers and a published writer.
Most recently, Mr. Quinn was profiled in The Irish American Post literary magazine in Milwaukee, Wisconsin in their Spring 2009 issue, and his Blogs have been published regularly by The New York Times in their Arts Blog on the web. He also appeared at the Botto House/American Labor Museum in April of 2009 for a program devoted to his book of poetry: organized labor (AuthorHouse) 2005.
# # #