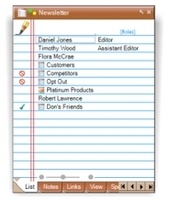 Lexington, KY (PRWEB) March 31, 2009
Lexington, KY (PRWEB) March 31, 2009 Infusion Logic, LLC announces the release of its new patent pending technology calc(list)® with Passive Automation. Just as the spreadsheet introduced the "What If?" to numbers, calc(list) unlocks the hidden potential of business contacts with calculating lists, introducing the "What Who?" to contacts.
Calc(list) was designed for anyone who needs to manage people, groups and their activities:

Supports event planners and producers in creating outstanding events by managing the myriad of people and their tasks that it takes to make it a success.
Assists nonprofit organizations to build better relationships by engaging contributors through targeted communications.
For marketing it facilitates the creation and combination of persona lists, tracking campaign participants, and streamlining communication and collaboration between marketing and sales.
Aids emergency professionals in quickly organizing relief efforts.
Makes it possible for businesses of all sizes to implement automation and workflow which was once affordable only to large corporations.
Just as spreadsheets did not replace accounting systems, calc(list) does not replace contact managers, CRM systems or planning software. Calc(list) complements these business systems through an Enterprise 2.0 approach. Accounting, CRM and other systems are "Top Down", centralized and bureaucratic. Calc(list) is agile, bottom up and emergent which empowers the workforce to automate itself.
A workforce that automates itself? Passive Automation is highly adaptive and emergent. Calc(list) gives knowledge workers the ability to create task automations for their own use. These discrete task automations can be shared with others who can incorporate them into their own task automations. As various individuals begin to link together these task automations a larger automated structure is created. Because individuals may not know how their shared task automations are contributing to the larger automated structure they are "passively" contributing to companywide automation and collaboration.
For additional information, videos and a free trial visit http://www.calclist.com
About Infusion Logic, LLC
Founded in 2002, Infusion Logic, LLC created the idea of calculating contacts and has developed a totally new concept in office automation called Passive Automation. Infusion Logic, LLC is dedicated to delivering quality software that leverages and expands the value that calculating contact lists and passive automation deliver. Calc(list) is a general business solution which is applicable to virtually all market sectors throughout the world.
Trademarks of Infusion Logic, LLC:
calc(list)® is a registered trademark
Does for contacts what spreadsheets did for numbers... ™
###