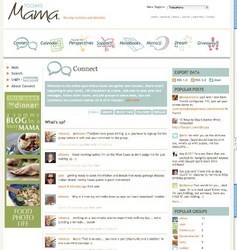 Moms are great at networking in real life, and now they are rapidly embracing social networking tools to connect with the broader world while in the thick of raising their families
Salt Lake City, Utah (PRWEB) March 30, 2009
TodaysMama.com, a regional publishing company and online community for moms, today announced the launch of TodaysMama Connect, a microblogging service designed to help women connect in 140 characters or less. TodaysMama.com is one of the first Web sites to offer a microblogging service catered solely to women.
TodaysMama Connect will allow moms to connect not only with other moms all over the country, but also with national personalities, media outlets, and local business owners. The tool allows 140 characters or less, features topical groups, offers a mobile version, and links with Twitter so users can update both services simultaneously if they choose. Women who are interested in participating can visit http://www.todaysmama.com/connect and set up a profile.
"Moms are great at networking in real life, and now they are rapidly embracing social networking tools to connect with the broader world while in the thick of raising their families," said Rachael Herrscher, CEO of TodaysMama.com. "Microblogging is becoming more popular every day, and we want to give moms a friendly place to learn to microblog and find local connections easily. TodaysMama Connect will also be a great way for local businesses to reach their target market, since moms can follow their favorite restaurant or local zoo."
By launching TodaysMama Connect, the company hopes to introduce more women to the world of microblogging. Twitter can be overwhelming and many users have a hard time locating followers with similar interests or in their geographic location. By using TodaysMama Connect, moms will be on a familiar Web site they already love, and they can easily find moms in a similar place in life. Users can join groups based on topics ranging from potty training to their favorite TV shows - like forums, but in more conversational, 140-character bursts.
With more than 150,000 of their Mama's Handbooks in print across the country, TodaysMama.com and its network of regional sites allow moms to find timely happenings in their community, ways to support local mom-owned businesses, articles, and more to connect with other moms. Despite a sagging economy, the TodaysMama.com network has proven to be valuable to local moms, and hence, local advertisers.
About TodaysMama.com
TodaysMama.com provides personal, professional and parenting resources designed to inform, enrich and inspire mothers. Founded in 2004, TodaysMama produces local Mama's Handbooks and an online community where moms can explore local events and information, and tune into national content and initiatives. There are 27 local markets in the TodaysMama family, including Arizona, Atlanta, the Bay Area (East Bay and South Bay), Boston, Chicago, Cleveland, Denver, Houston, Indianapolis, Los Angeles, Montana, New Jersey, New York City, Philadelphia, Portland, OR, South Central Pennsylvania, Southern Nevada, San Diego, Santa Cruz/Monterey, Solano, South Florida, Seattle, Spokane, Utah, Washington, D.C., and Wisconsin.
###