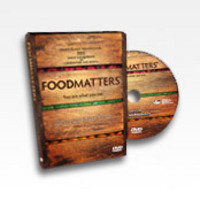 Modern medicine has led us to seek out a pill for every ill, but there are steps we can take as consumers that have been scientifically verified to help us heal ourselves
Los Angeles, CA (PRWEB) March 31, 2009
A provocative new documentary available in the U.S. and Canada today has a message for a struggling health care system and those who aim to reform it: food matters. The film "Food Matters" teaches viewers about foods, supplements and detoxification processes that have been proven to prevent, arrest, and even reverse diseases like diabetes, cancer, heart disease, high blood pressure and depression. "Food Matters" also addresses shortsighted agricultural practices, known pharmaceutical dangers, and lifestyle choices that impact our health, and reveals safe, affordable and effective natural approaches to treating the most common and chronic problems.
Nutritionists-turned-filmmakers James Colquhoun and Laurentine ten Bosch have produced a bold new film featuring leaders in nutrition and medicine from around the world who provide inspiring solutions and new approaches to disease.
"Modern medicine has led us to seek out a pill for every ill, but there are steps we can take as consumers that have been scientifically verified to help us heal ourselves," said Colquhoun. "We're not suggesting that pharmaceutical drugs don't have their place, it's just that many people are not aware of the positive impact alternative treatments can have on their health."
"There are simple lifestyle changes that we as individuals can make to combat serious illness, and with access to solid information, people invariably make better choices for their health," said ten Bosch.
"Food Matters" reveals specific foods and supplements that have been proven to have health benefits for a variety of common conditions, such as Vitamin C, cashews and even raw chocolate. Experts featured in the film, such as Andrew W. Saul, Ph.D., author and natural healing specialist with more than 30 years experience; nutritionist David Wolfe; and cancer specialist Dr. Dan Rogers offer health, wellness and nutritional advice to help viewers take immediate action.
Another of the film's experts Charlotte Gerson, founder of the nonprofit Gerson Institute dedicated to Gerson Therapy, an alternative, non-toxic treatment for cancer and other diseases, claims that a normal, healthy body has such powerful defenses that it cannot and will not develop cancer or any other chronic disease.
At a time when our struggling health care system is under scrutiny, and national health care reform is urgent, "Food Matters" aims to step in where "Sicko," Michael Moore's attack on the American health care system, stopped short. Colquhoun and ten Bosch hope "Food Matters" will educate people about ways to prevent illness, rather than encourage them to rely on a system already in crisis to treat symptoms once illness takes hold. "It's about education, not just medication," said Colquhoun.
"Food Matters" is currently available on DVD and for viewing online through the film's website http://www.foodmatters.tv and at select retailers in North America.
Advance Praise for "Food Matters"
"Thought provoking, informative, and compelling, this film matters." (Rory Freedman, coauthor of New York Times bestseller "Skinny Bitch")
"Anyone who is serious about their health needs to see this stunning film." (Christiane Northrup, MD, author of "Women's Wisdom")
"Outstanding." (John Robbins, author of "Diet for a New America")
"Food Matters is a must-see for those looking to take control of their health." (John Gray, Ph.D., author of New York Times bestseller "Men are from Mars, Women are from Venus")
About James & Laurentine
After studying nutrition through the Global College of Natural Medicine in California, James Colquhoun and Laurentine ten Bosch realized that the health challenges within their own families were in fact a very real representation of what was happening the world over. They set out on a path to evaluate alternatives to empower themselves, their loved ones and others, minimize health care costs and reduce the demands on our already overburdened health care system. In the process they formed a production company to create, direct and produce the feature film "Food Matters." The Food Matters duo has independently funded the film from start to finish in order to remain as unbiased as possible, delivering a clear, concise and hard-hitting message to the world: Food Matters.
###