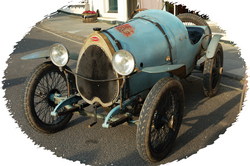 When we launched the Wroughton Classic in 2006 we were stunned at the enthusiastic response
(Vocus) March 30, 2009
One of the newest and fastest-growing classic car shows in the UK is returning for 2009 with a new headline sponsor. And if previous trends are anything to go by, it is likely to be hugely popular.
Now sponsored by Adrian Flux Insurance Services, the Wroughton Classic Car and Bike Show, in conjunction with Classic Car Weekly magazine, will be on the weekend of August 1st -2nd, and the show is set to be the largest ever, with attendances set to break last year's record of over 25,000 visitors - and almost 3,000 classic vehicles entered. The show will feature a huge variety of motors - from veteran 'old crocks' to rare examples of legendary racing cars such Jaguars, and concours-quality cars, vans, motorbikes - even old caravans.
Also attending will be a large number of car clubs, and it will be an opportunity to see collections of similar rare vehicles together. Family attractions such as a pedal car race and a number of famous novelty vehicles from TV series are planned already, the complete line-up being announced closer to the date.
In addition a number of competitions for Best Car in several categories will lead up to the Adrian Flux Car of the Year award, with a variety of grand prizes and trophies.
TV and media coverage is likely to include the Classic Gear programme from the 'Men and Motors' TV channel, which last year dedicated an entire episode to the show. The episode will be repeated on the channel in May - exact date to be confirmed - and a clip can soon be seen on the website: http://www.wroughtonclassic.co.uk.
"When we launched the Wroughton Classic in 2006 we were stunned at the enthusiastic response," said founder and organiser Greg Dunningham. "We never expected it to take off as fast as it did.
"Our advance bookings already suggest this is set to be the biggest year so far, and so we are making plans for plenty of space and lots of family attractions. It will be a grand day out, not just for enthusiasts but for all the family."
For Gerry Bucke, commercial director of Adrian Flux Insurance Services, the show is an opportunity to meet its prime groups of customers. "We're delighted to be helping the Wroughton Classic for 2009. Since we are one of the largest insurers of classic and specialist vehicles in the UK, being the headline sponsor is an honour," he said.
"It's also a valuable chance to get feedback on what classic vehicle owners really need from their insurance. And we'll be able to give them quotes - then and there at the show - so they can compare with their existing policies or get instant cover."
One phenomenally popular attraction back for 2009 is the Old Sodbury Sortout autojumble, taking place only on the Sunday, 2nd August. Previously a fixture at Newbury Showground, the 'Sodbury' will especially attract Land Rover and classic car owners seeking the rare parts they need to restore their vehicles.
For more information on the Adrian Flux Wroughton Classic Car Show, to buy tickets, to enter your classic car or find out how your club can attend, call 0844 371 8341 or see the Show booking page: http://www.wroughtonclassic.co.uk/09booking.htm.
For details on Adrian Flux Insurance Services call the Adrian Flux quote line on 0800 505 3000, email the company at quotes(at)adrianflux.co.uk or see the Flux homepage on http://www.adrianflux.co.uk
Wroughton relaunches as The Adrian Flux Wroughton Classic Car Show - Mar-09
PRESS ENQUIRIES:
Alison Haynes or Toni Turner of The Publicity Works, Tel: 01263 761000
Greg Dunningham of Wroughton Classic Car Show, Tel: 07747 804487
Gerry Bucke of Adrian Flux Insurance Services: 0800 505 3000
###